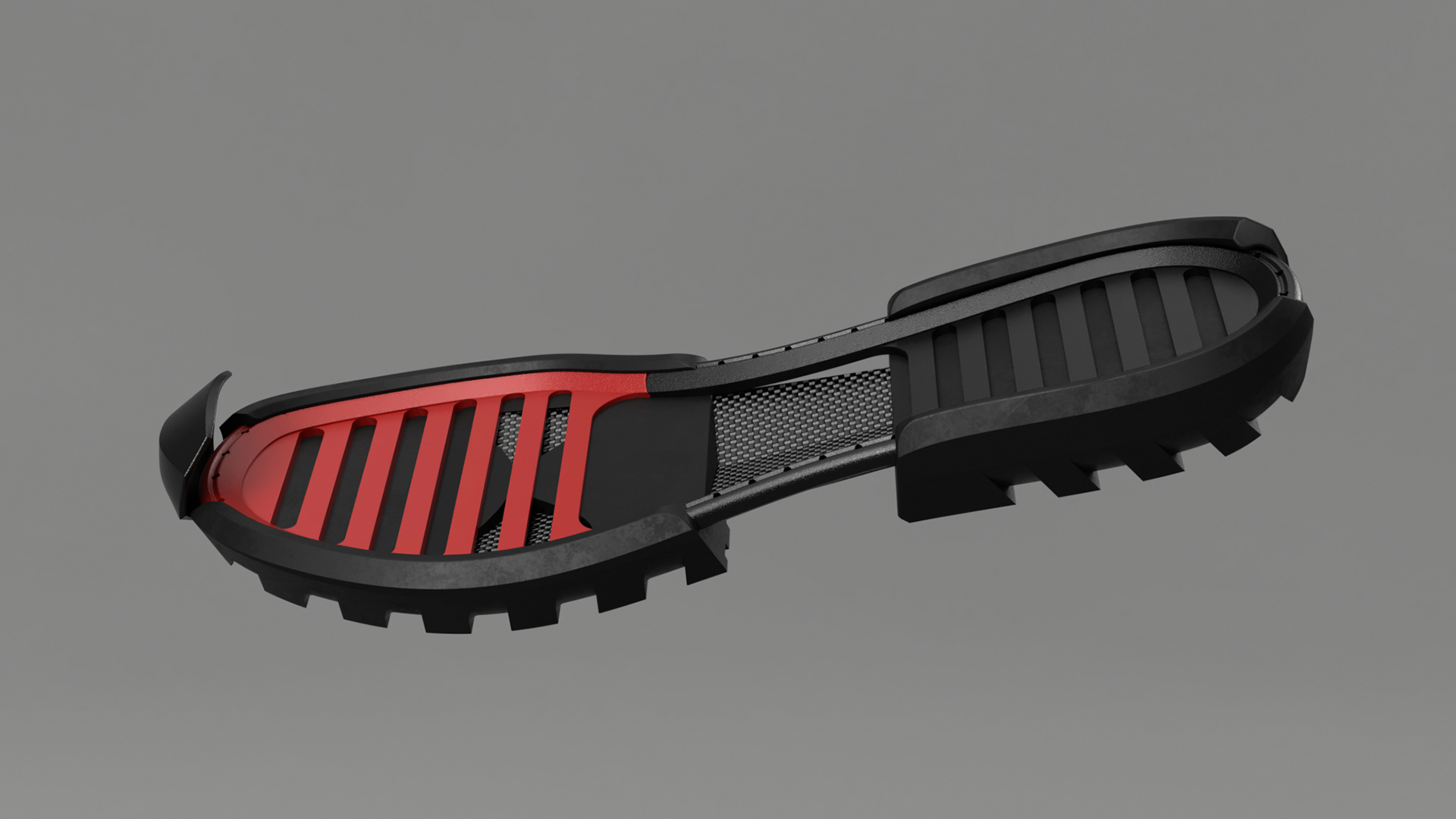 Challenges

Build adaptable bikepacking footwear with variable stiffness outsoles for riding and hiking.
Most adventure cyclists ride through variety of climate and terrain.

With composite shanks, hardware and foams, cycling shoes are a multi-material disposal disaster.
Outcomes

A 3/4 length pleated rigid core achieves walkability close to a trail runner, while maintaining pedal stiffness of a mountain bike shoe.

The N+ Platform - a quiver-killer of a shoe that adapts to different riding, weather and adventures.

World's first additive-enabled, open source cycling shoe. Modular, serviceable, repairable with an open source design riders can adapt to their own needs.

N+ bike shoe platform

Can we create an adaptable shoe that performs hiking and biking?
This question launched the initial research phase of interviews and surveys, reviewing published works on podiatry and sport, as well as an analysis of current market offerings. I produced 4 posters to share research and collect feedback.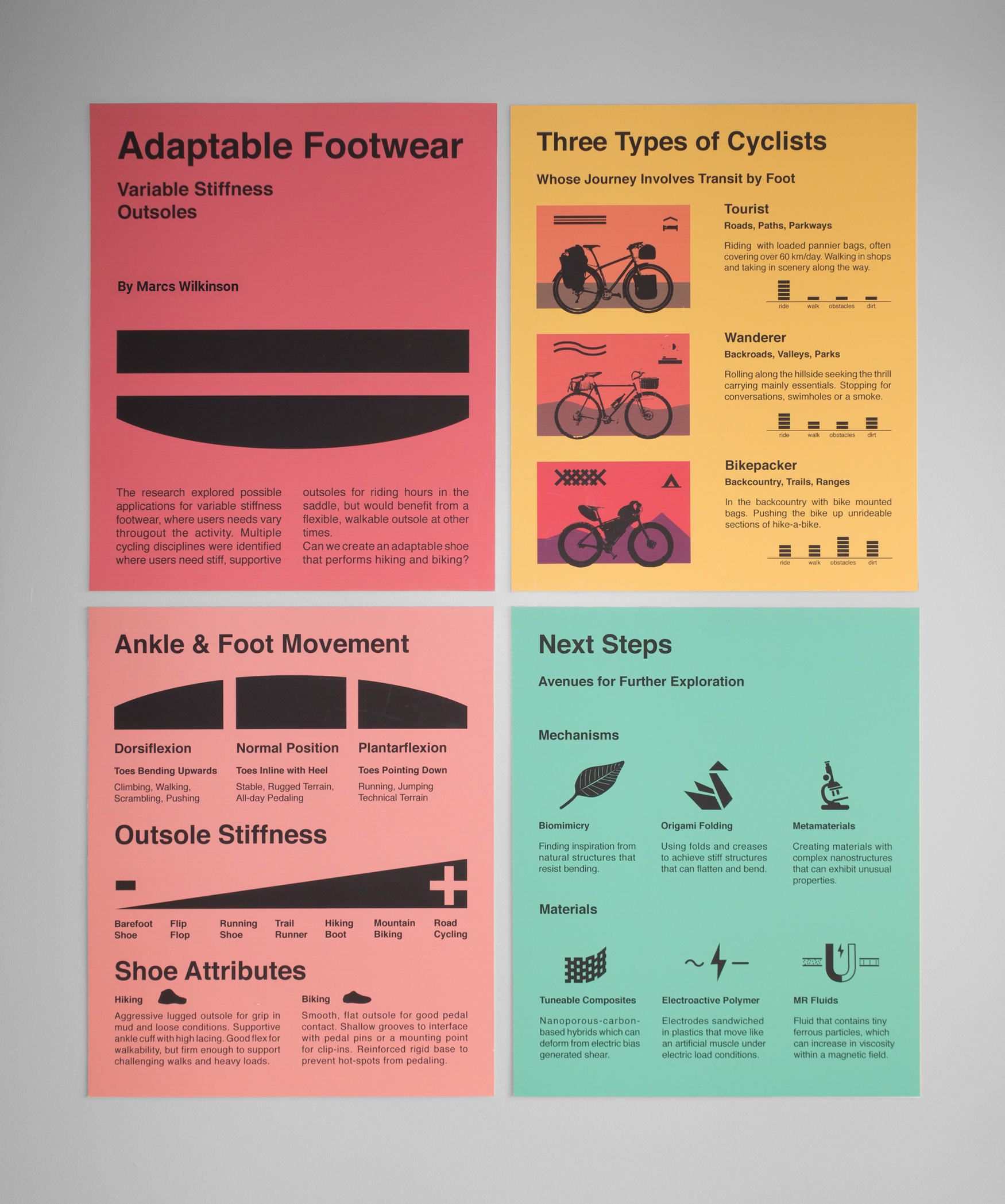 Through ethnographic observations I mapped out activities to the positioning of the foot and toes. Comparing the preferred footwear for these activities I identified a paradox; a comfortable walking shoe isn't great to pedal in, a good cycling shoe isn't suited to walking.
I defined three rider personas whose needs could require an adaptable shoe; classic bike tourists, the modern meandering bicycle camper, and the more aggressive bikepacker. Each would find themselves walking on most excursions and faces pack weight constraints.
Lastly, a deep dive into things that are both rigid and flexible to inspire further research. These were categorized as
mechanisms
and
materials
.
I decided to focus on the bikepacker

They are open to technical gear, take weight and pack volume constraints quite seriously, and face more unridable sections that require them to hike (hike-a-bike), sometimes over a ridiculous distance or vertical gain.
I further developed the persona through a number of methods (
covered more in the original report
), but nicely summarized in this customer journey map told through bike (or lack thereof)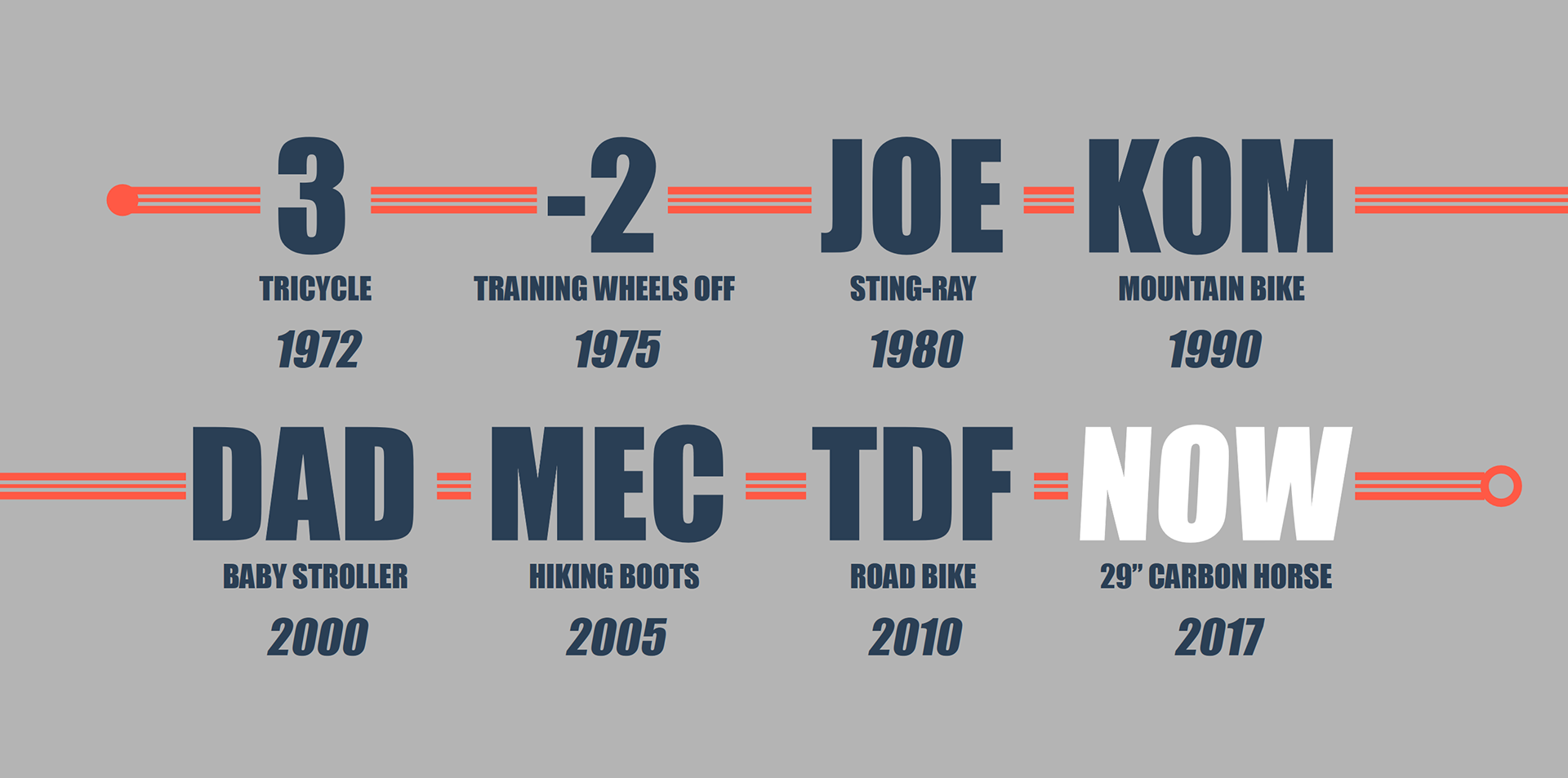 They've got disposable income and an openness to innovations that promise more comfort on the trail.

He may have stepped away from riding bikes to start a family, opting for activities the whole family could participate in. As they found more free time they took up road biking, learning the cost of performance gear. Now their focus turns to more comfortable, supple mountain bikes. They're ready to revisit the magic of camping with the help of their bicycle.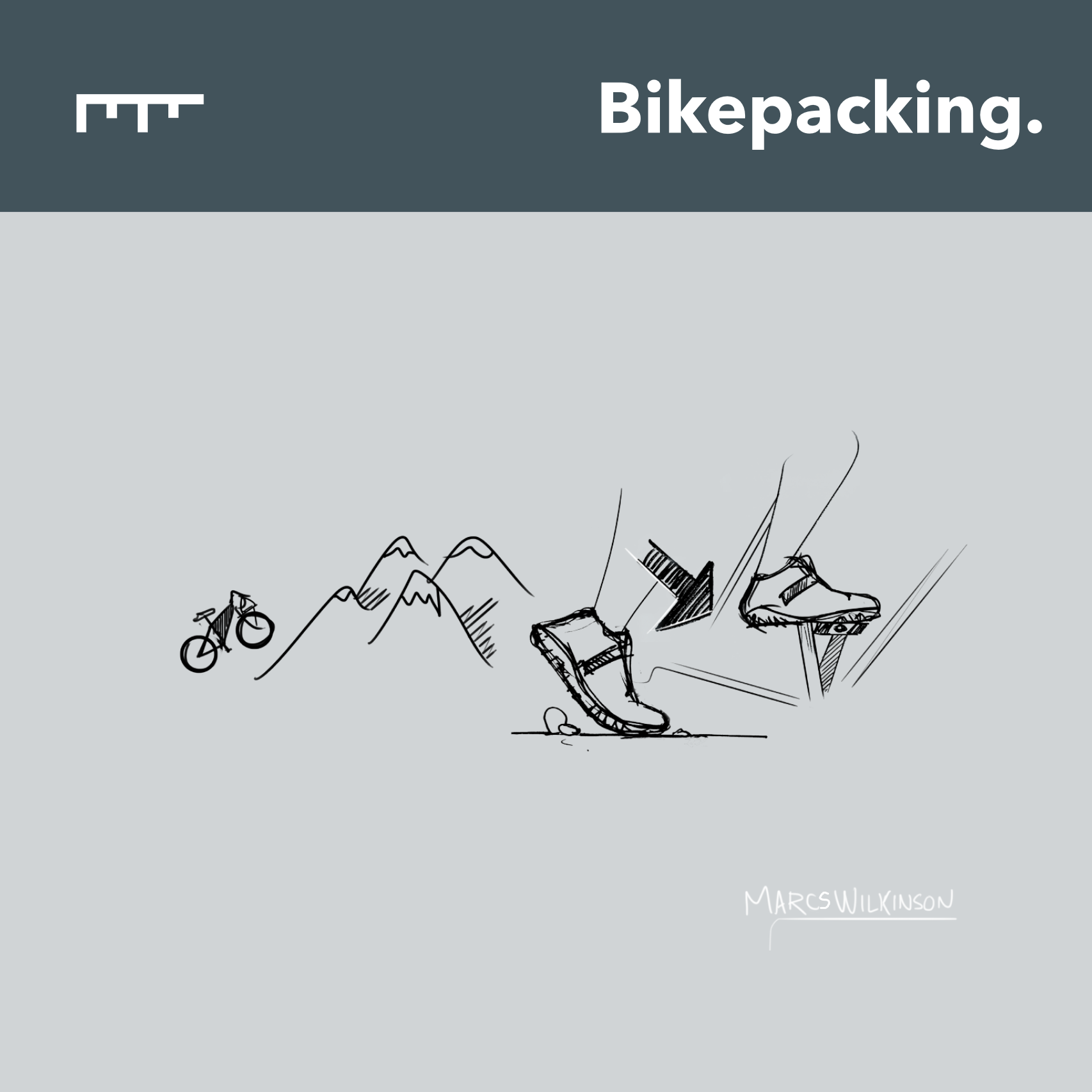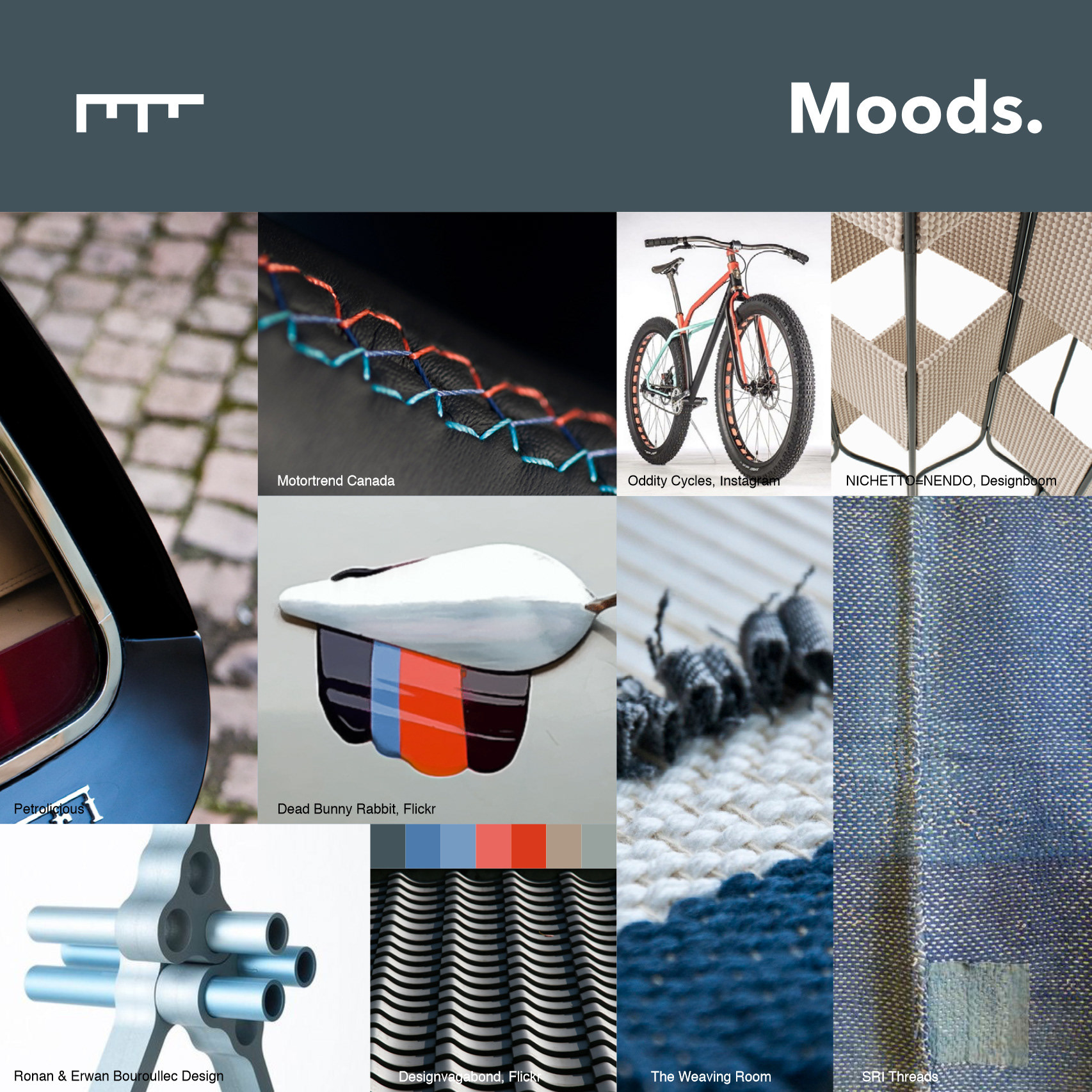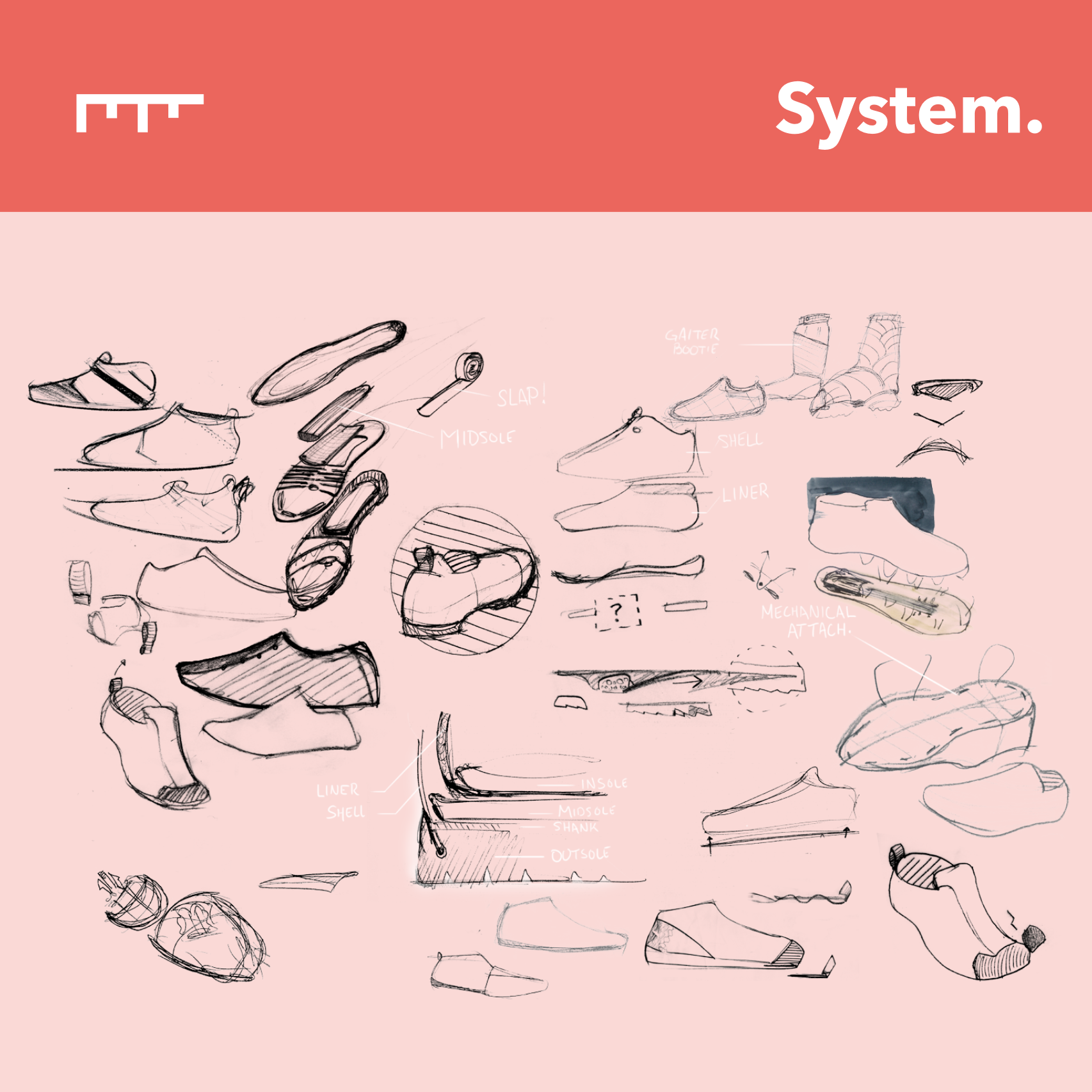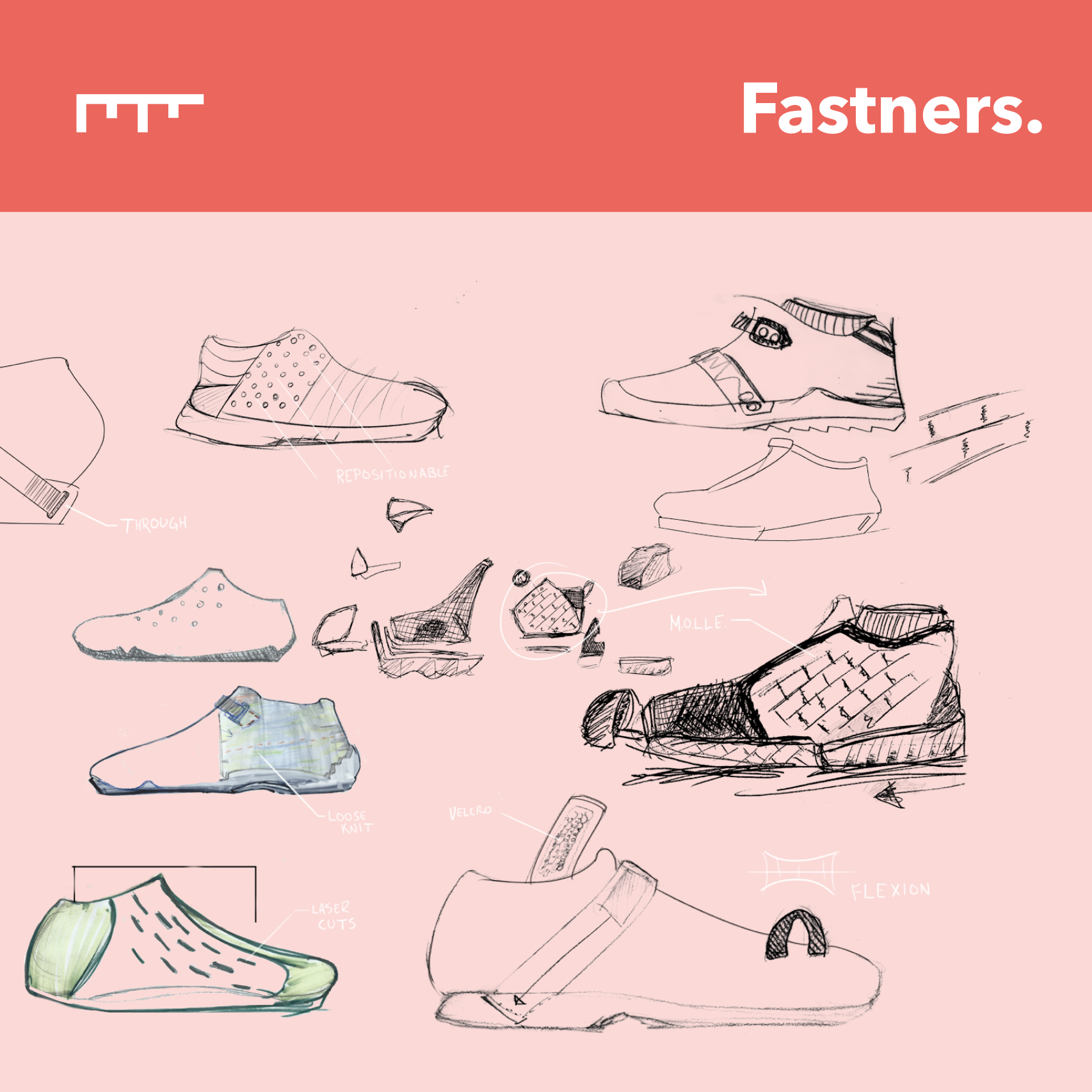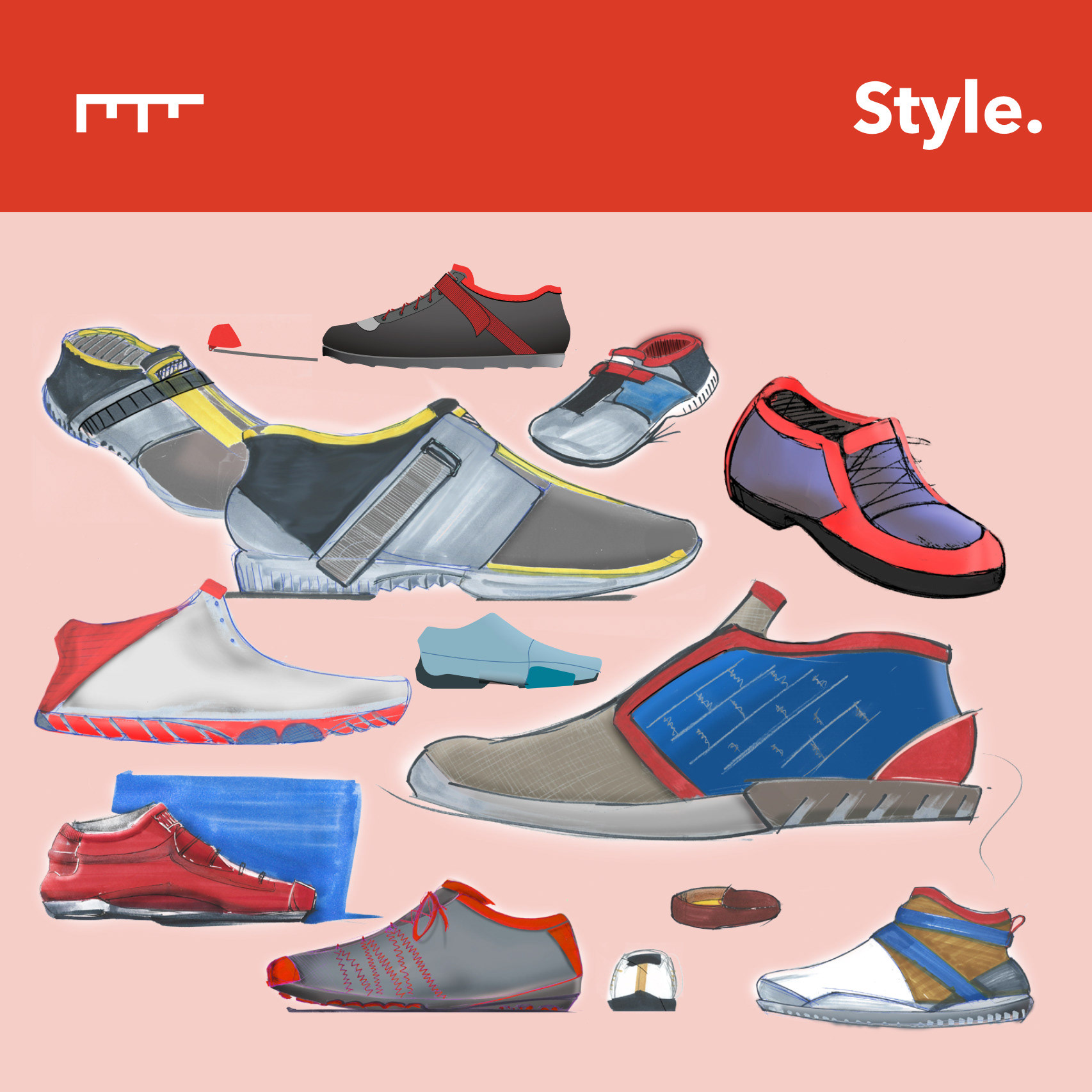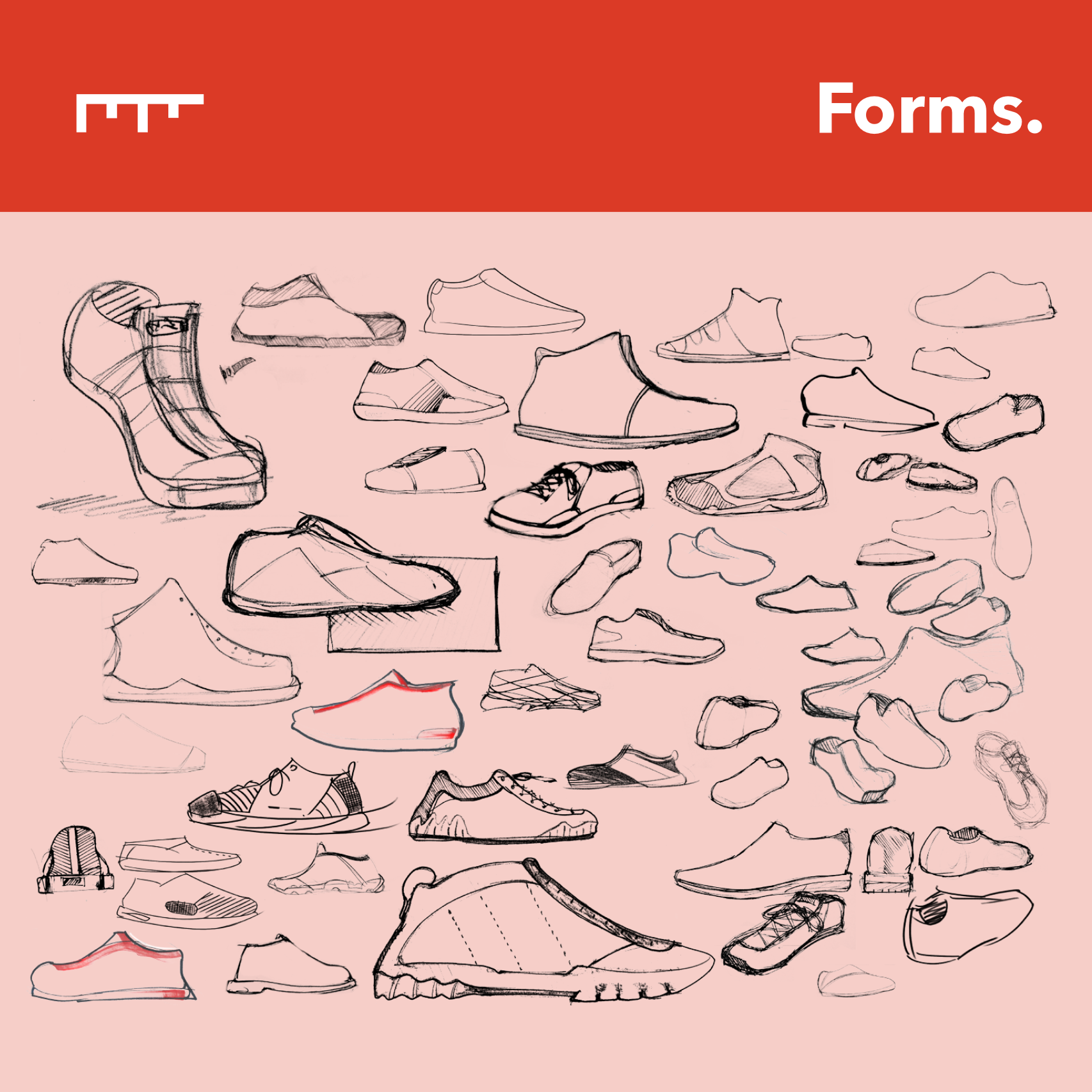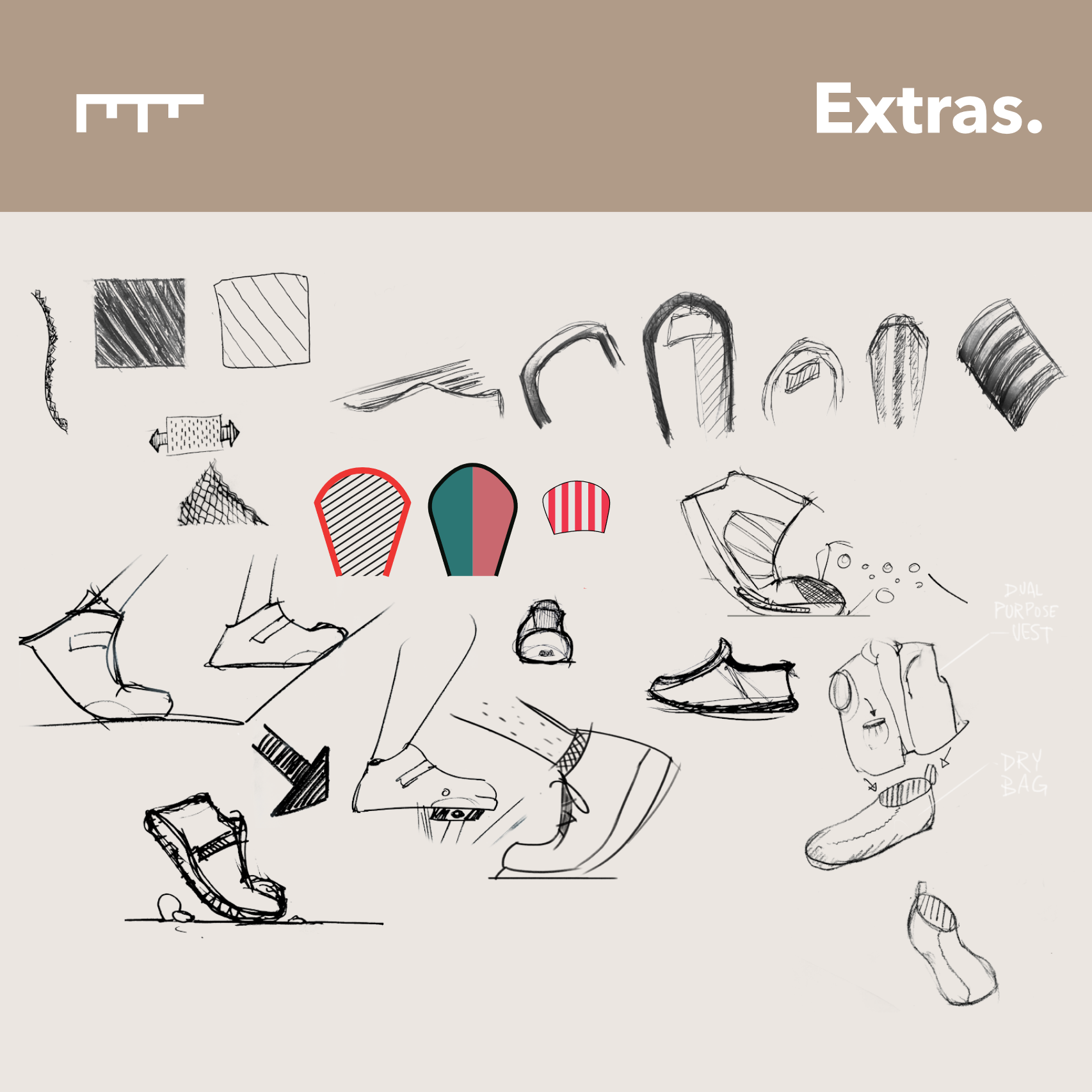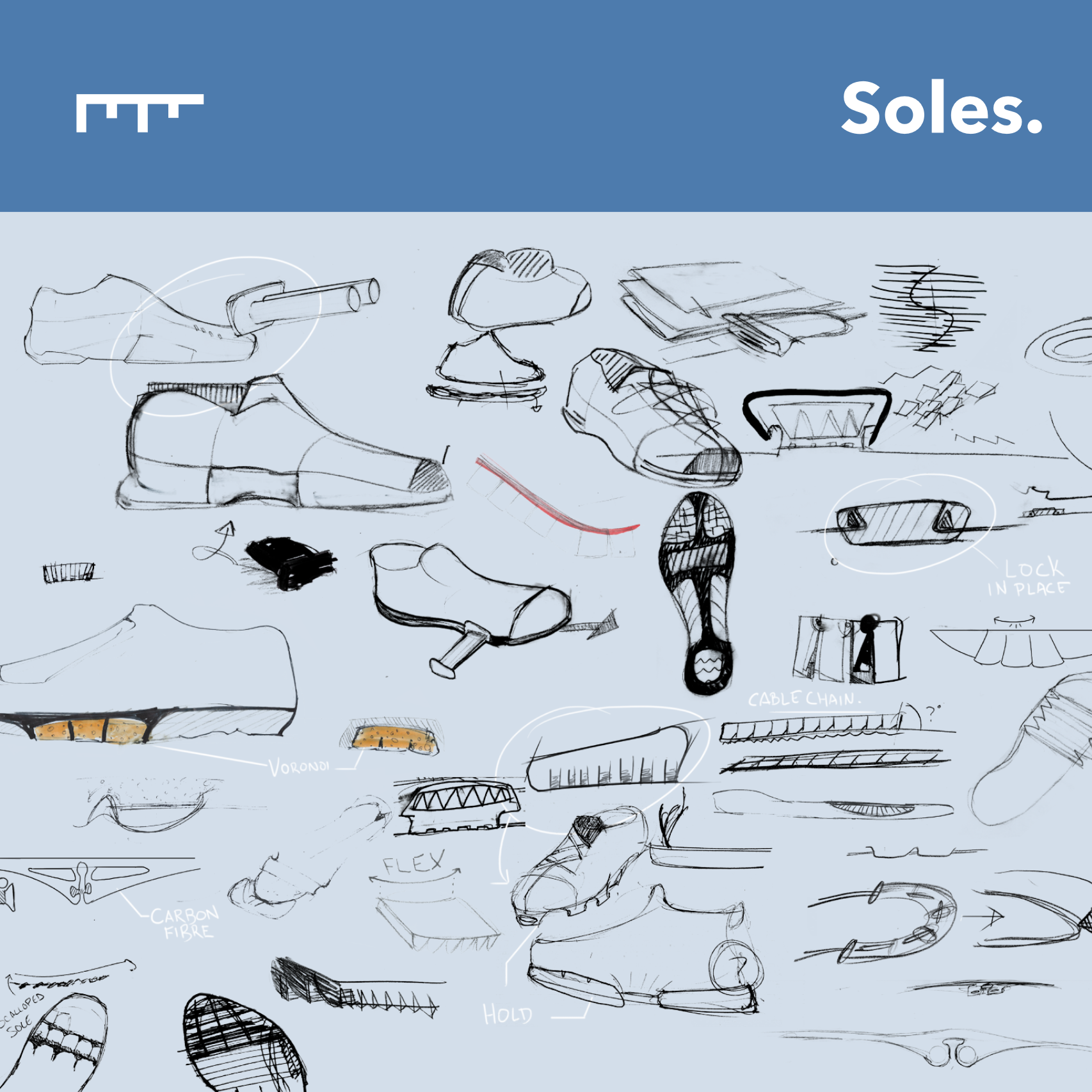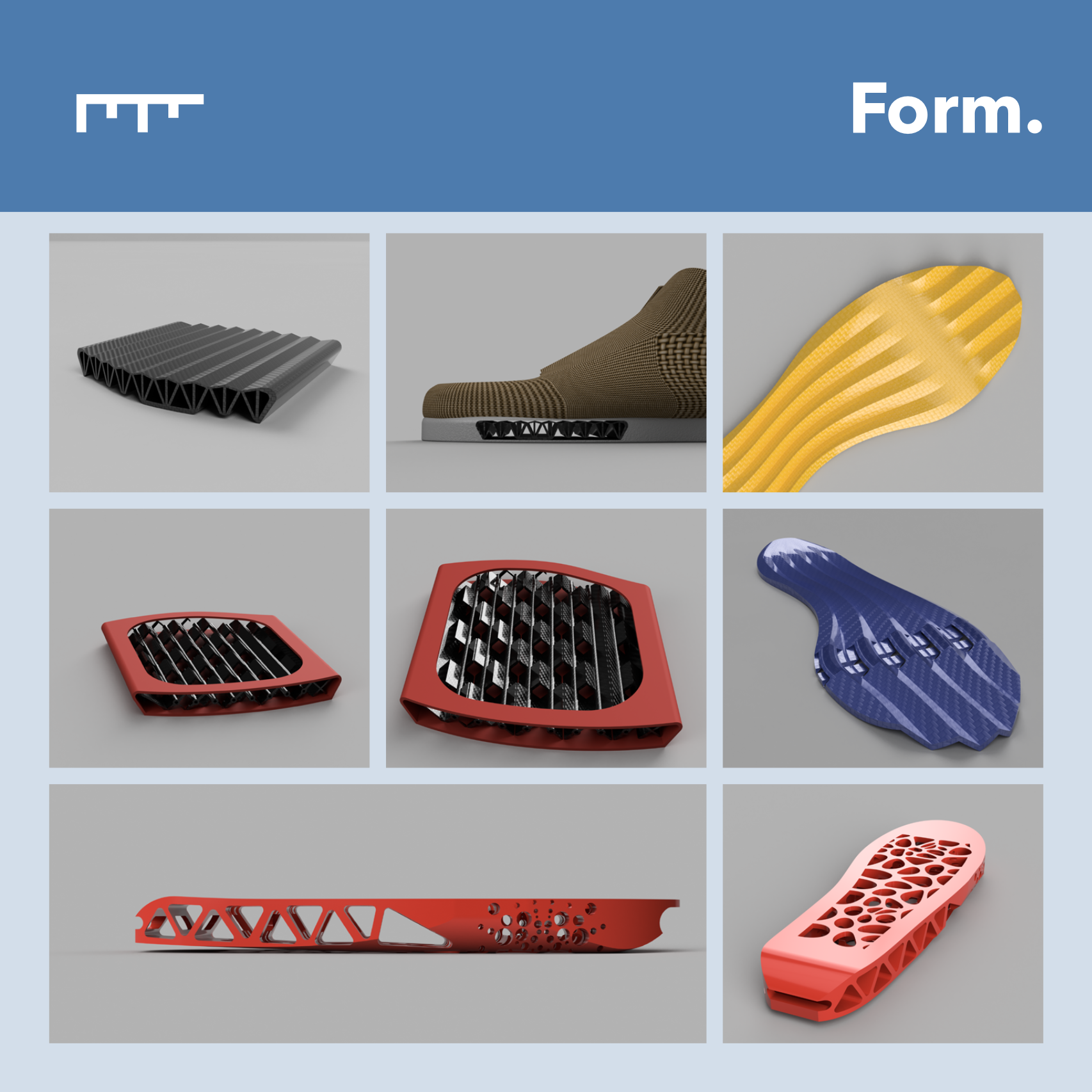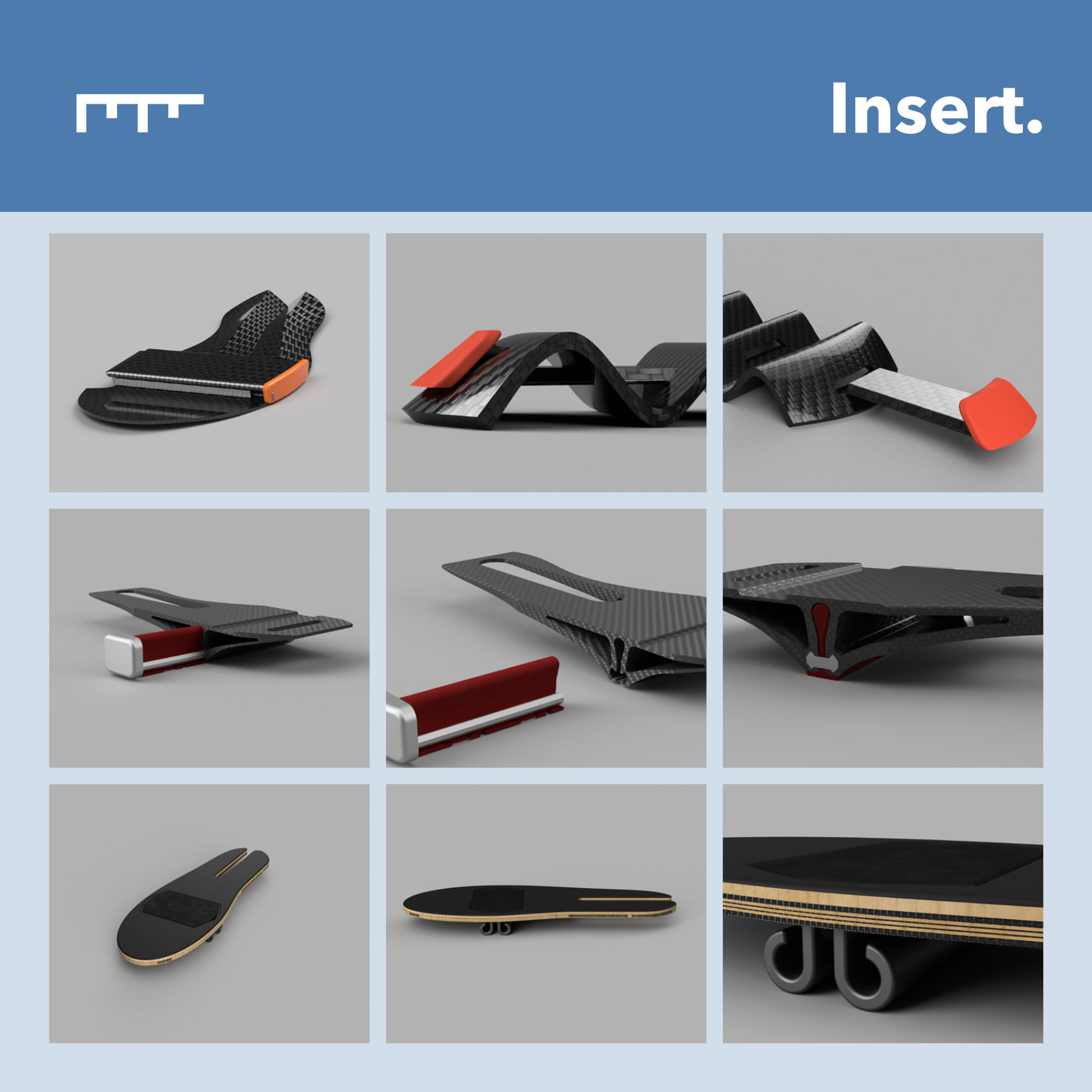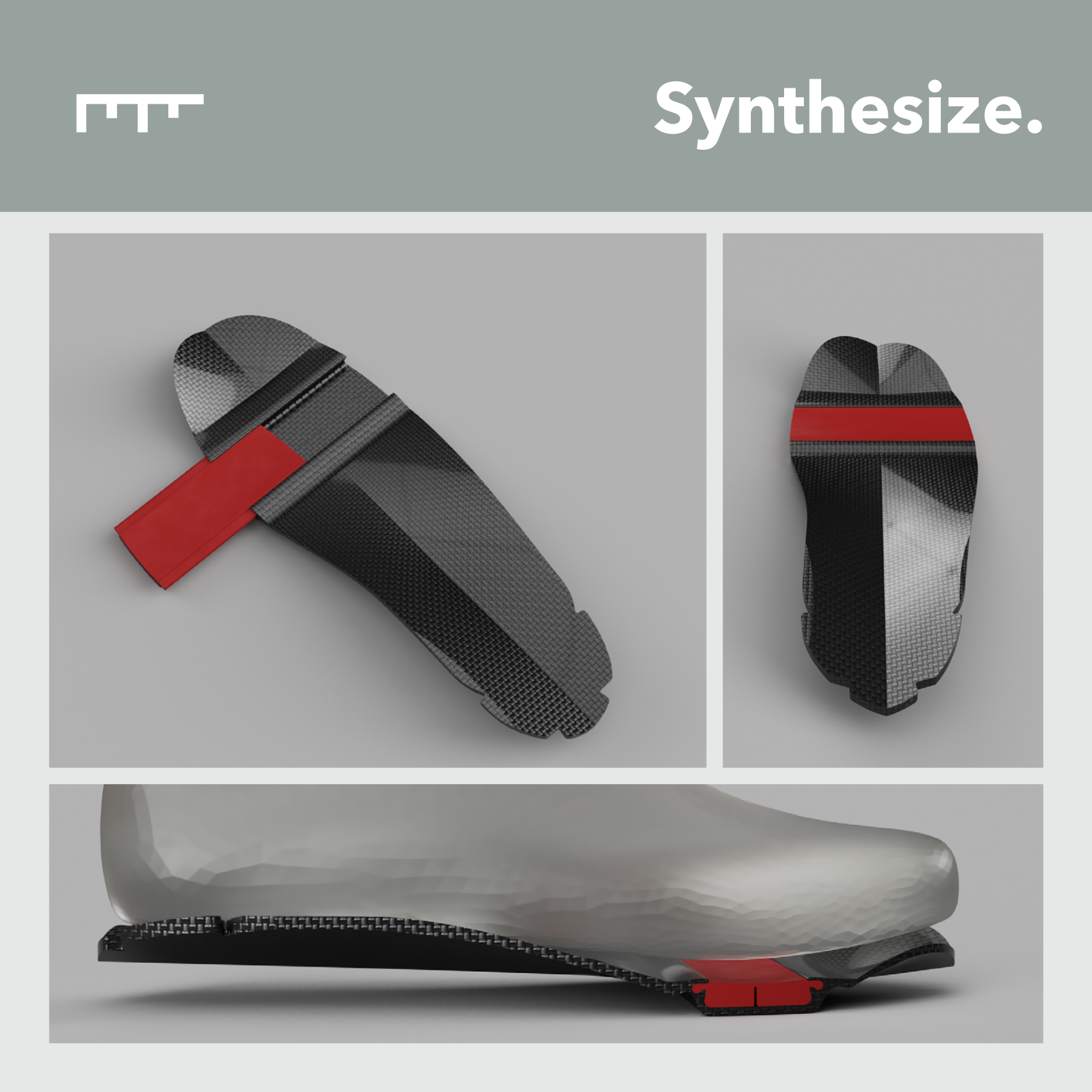 I was able to rule out few material classes. Electroactive polymers (EAPs) would require too much power to activate, which wouldn't be reliable off-grid even if it could be achieved with battery. M
agnetorheological fluid (MR fluid) would add significant weight to the shoe, so it was also ruled out.
Because of the complex geometries I moved quickly from thumbnail sketches into CAD sketching. A few ideas are shown here, I used a combination of parametric and sculpt modelling in Autodesk Fusion360.
While I had explored a number of styles and aesthetics, I knew the majority of work was in resolving the details of an adaptable sole, so I put the textile uppers on the back-burner.

Rapid 3D prototyping

I had the feeling access to a 3D printer would speed up prototyping, so I bought a kit and assembled it. The printer was a clone of an open source printer called the
Prusa i3
, a RepRap printer. RepRap is the original free self-replicating plastic printer project most designs derive from.
After calibrating the printer I was seeing tremendous potential the process. With the support of my supervisors
I began to look more closely at additive manufacturing in the production process and end-use products.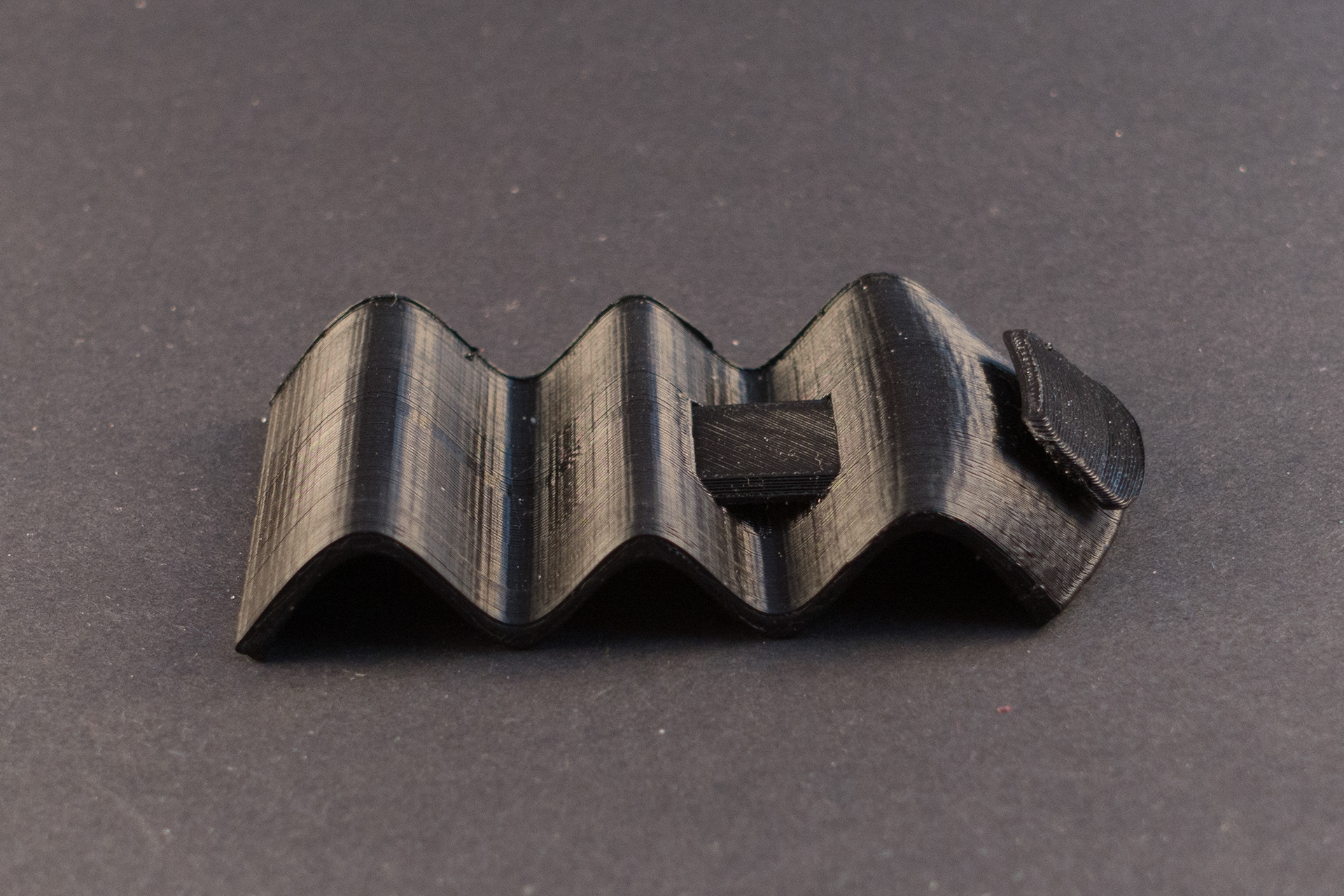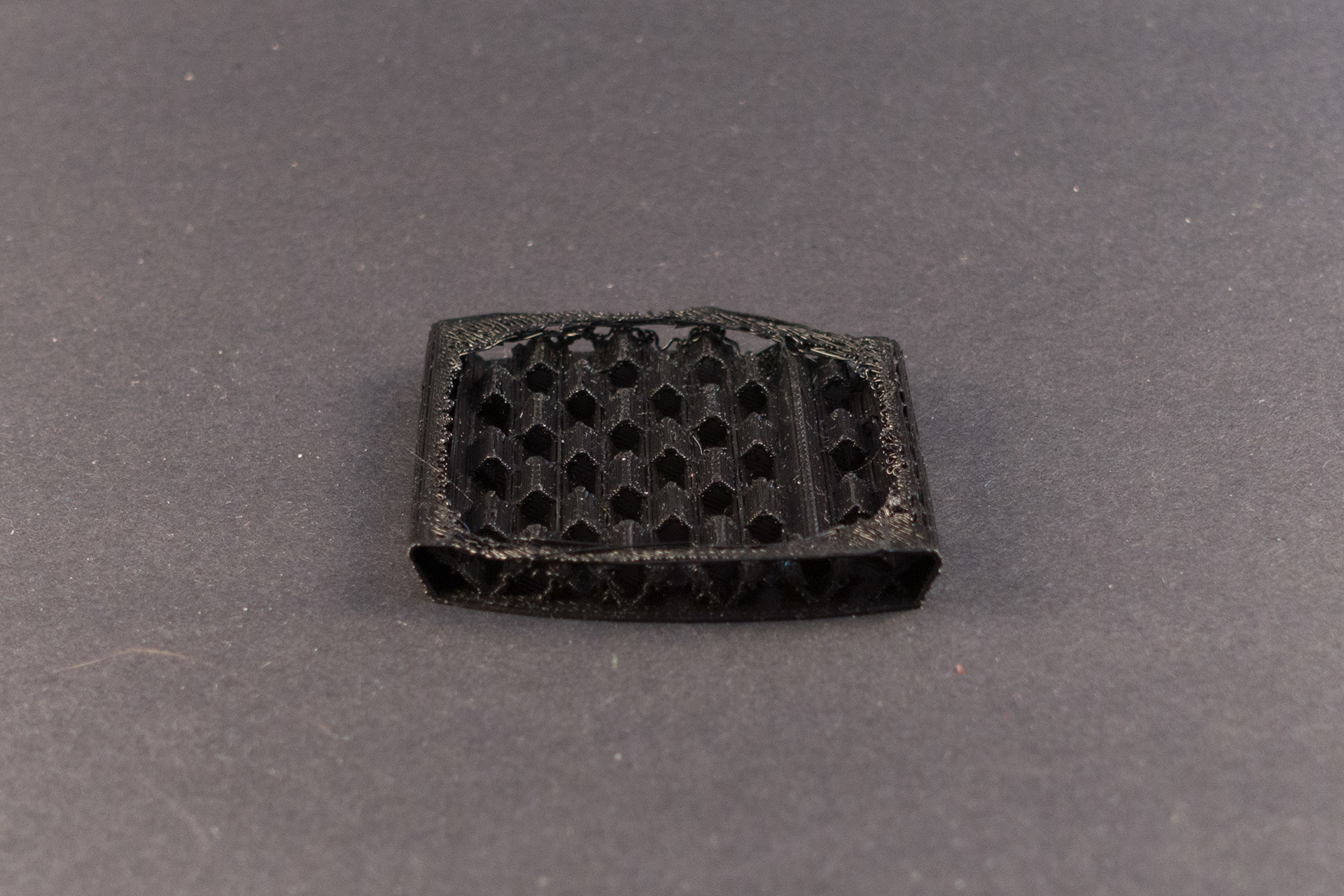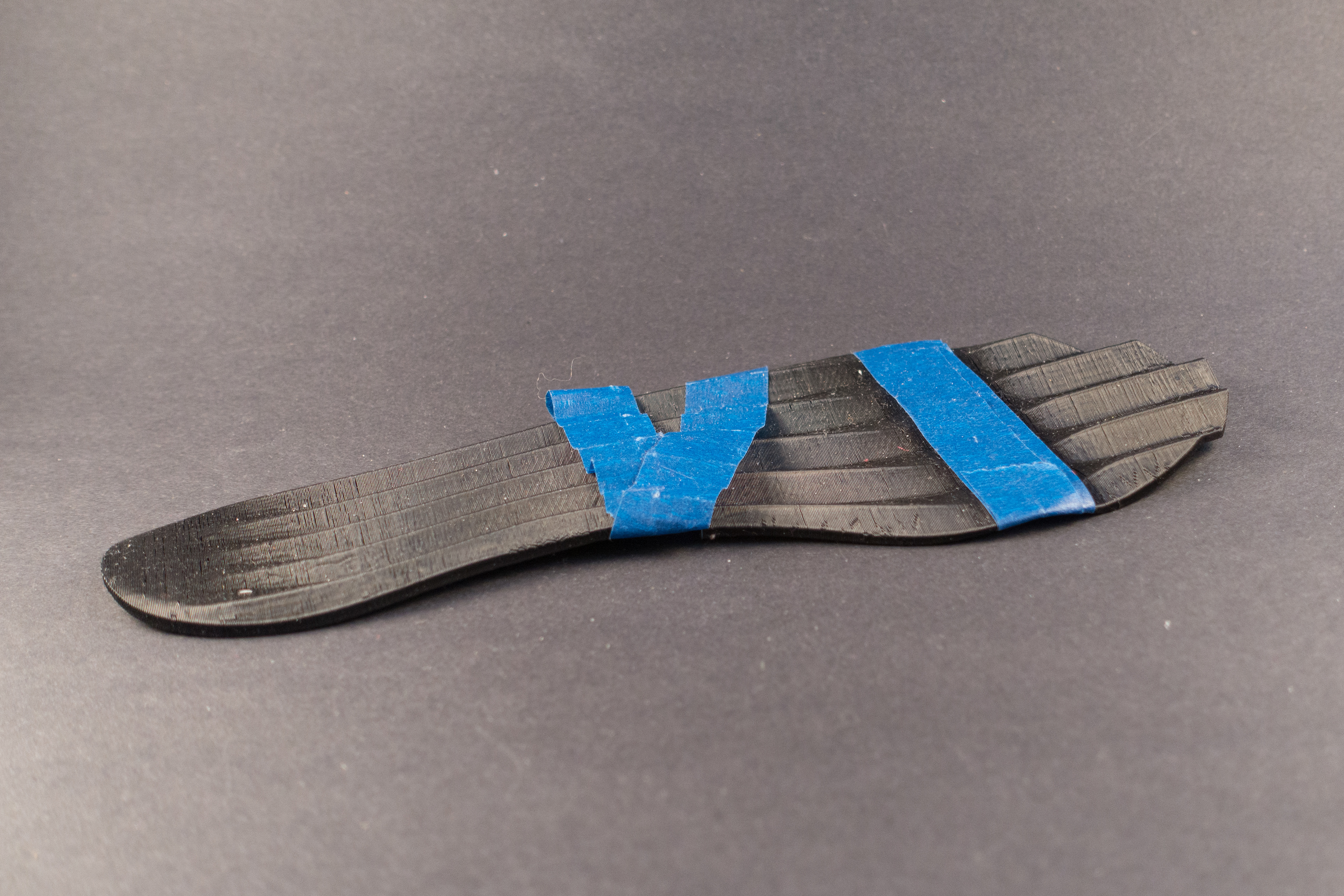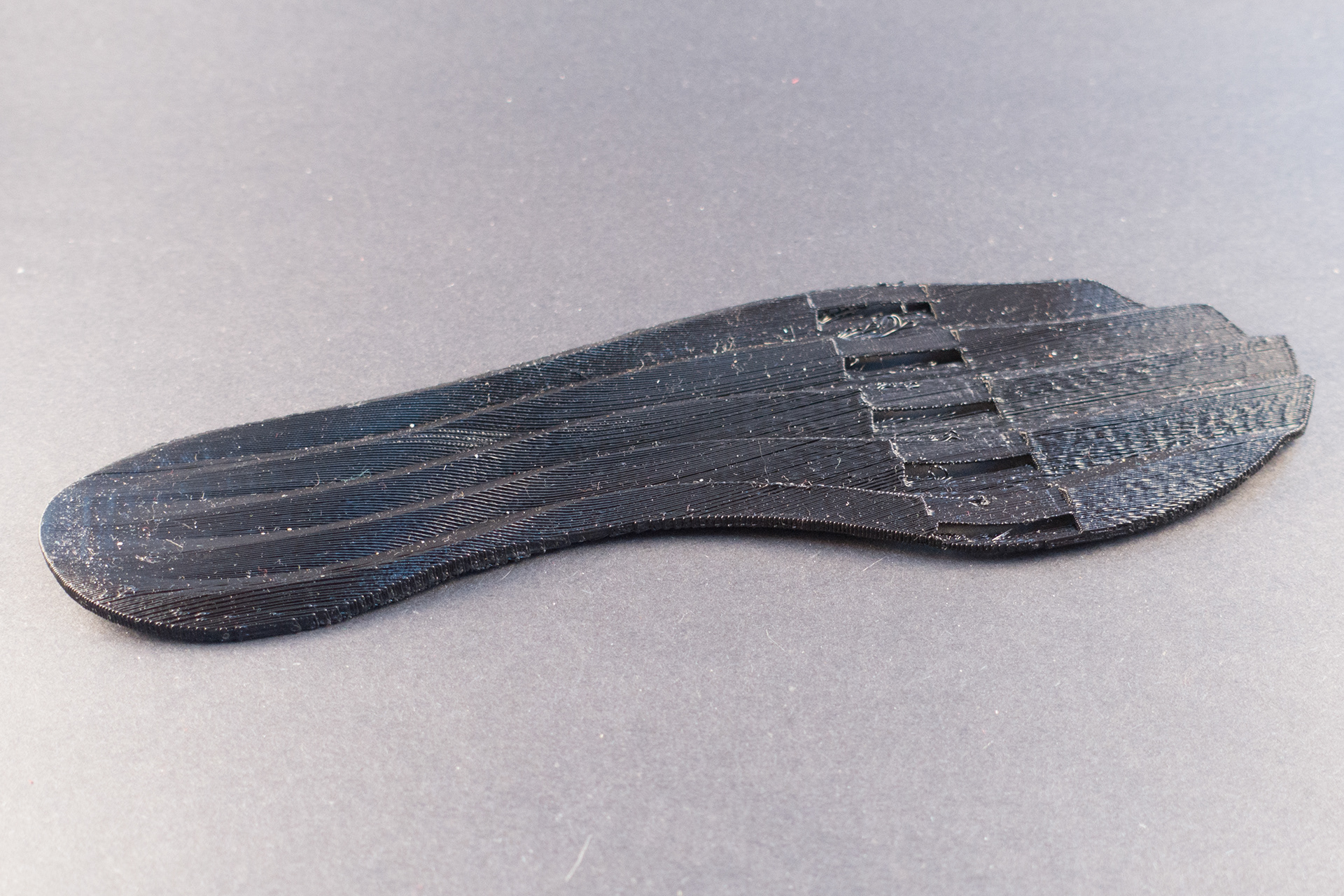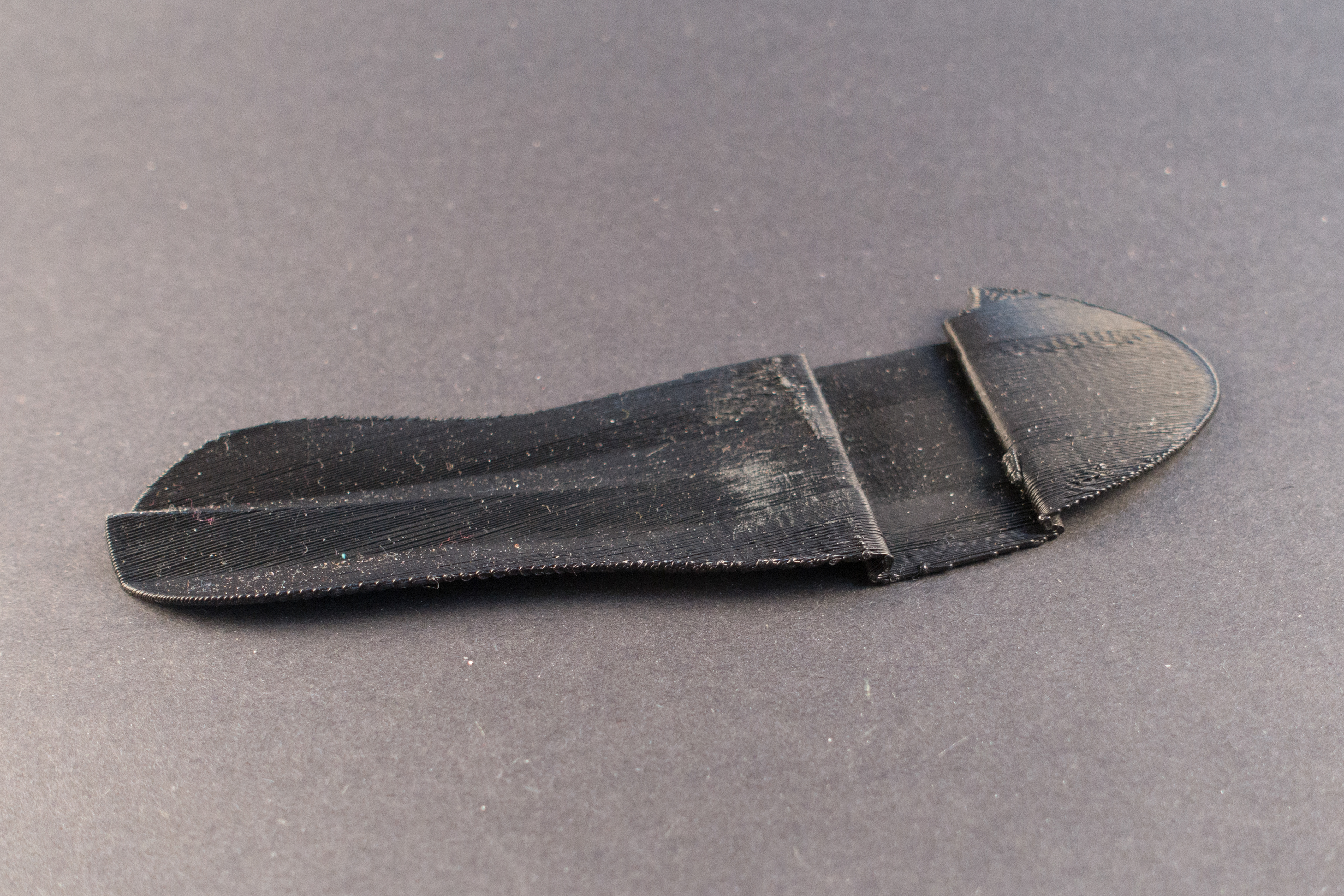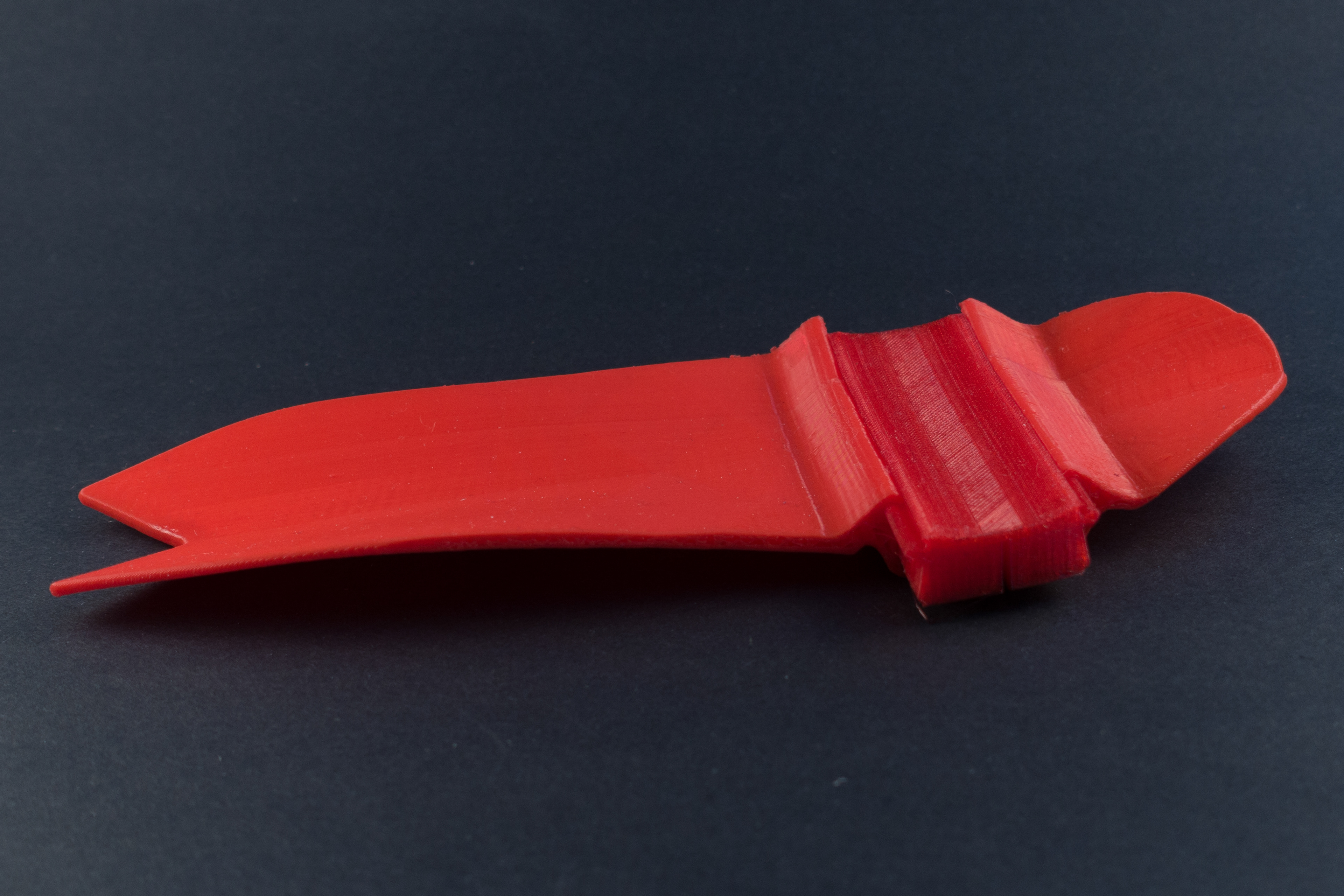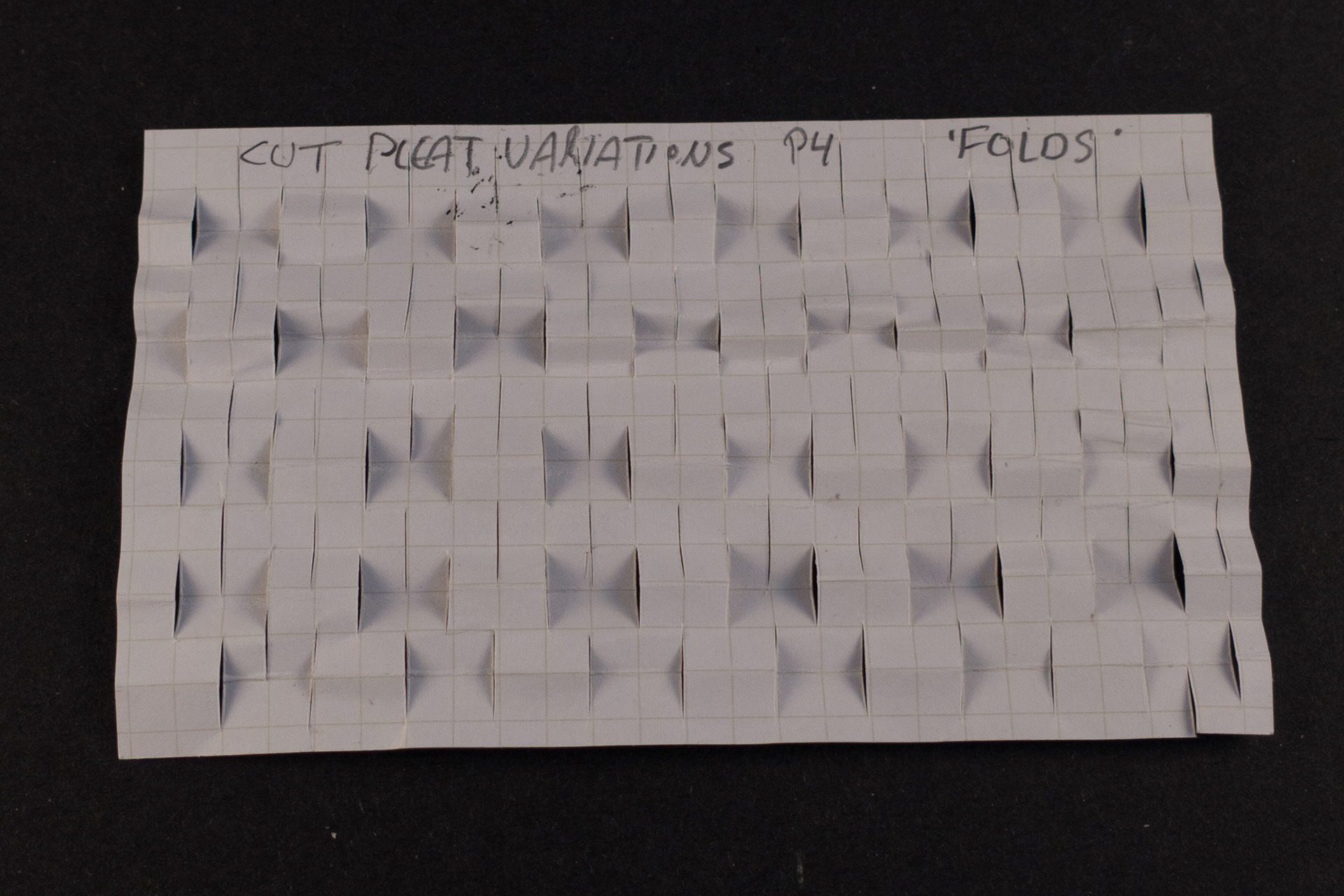 A modular platform

In his annual Design in Tech report John Maeda described computational design, a new paradigm of creating for the needs billions. While generally referencing scalable software products, the thinking resonated. Instead of making decisions to satisfy a user persona, we might design a system that adapts to the needs of individuals.

Most bike shoes on the market target a particular riding type. This makes sense for shoes as we know it, but leads to a pretty broad selection of niche footwear. You have road shoes, mountain biking shoes, touring shoes, winter cycling boots. Given the pricepoint, this model isn't ideal for any cyclist doing more than one type of riding.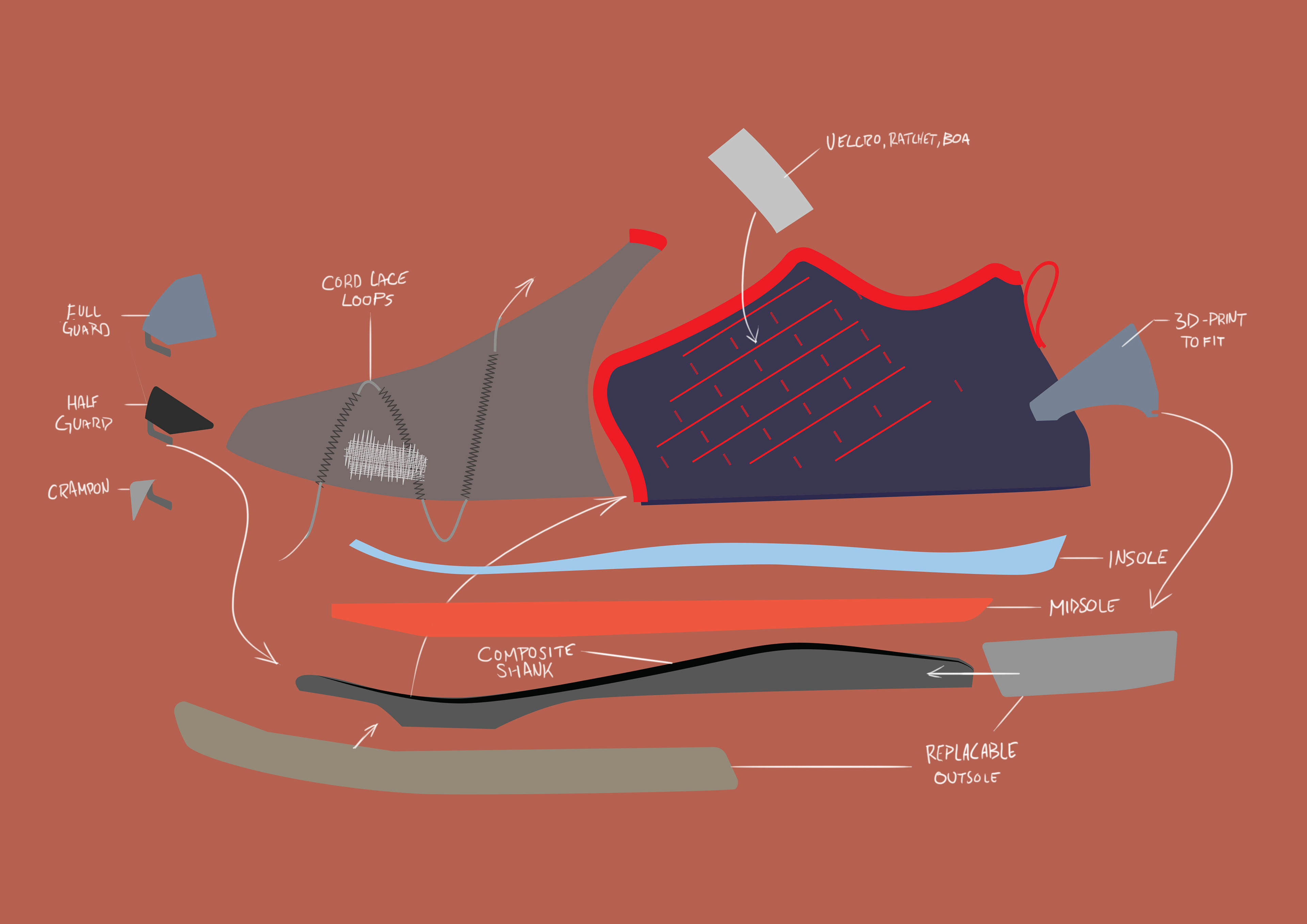 I decided to approach the problem differently, taking the ideas of adaptable footwear a
step
further. I sketched out this modular platform. Because the textile uppers and outsole/tread patterns would be interchangeable, I could focus on the functional properties of the outsole my research was concerned with.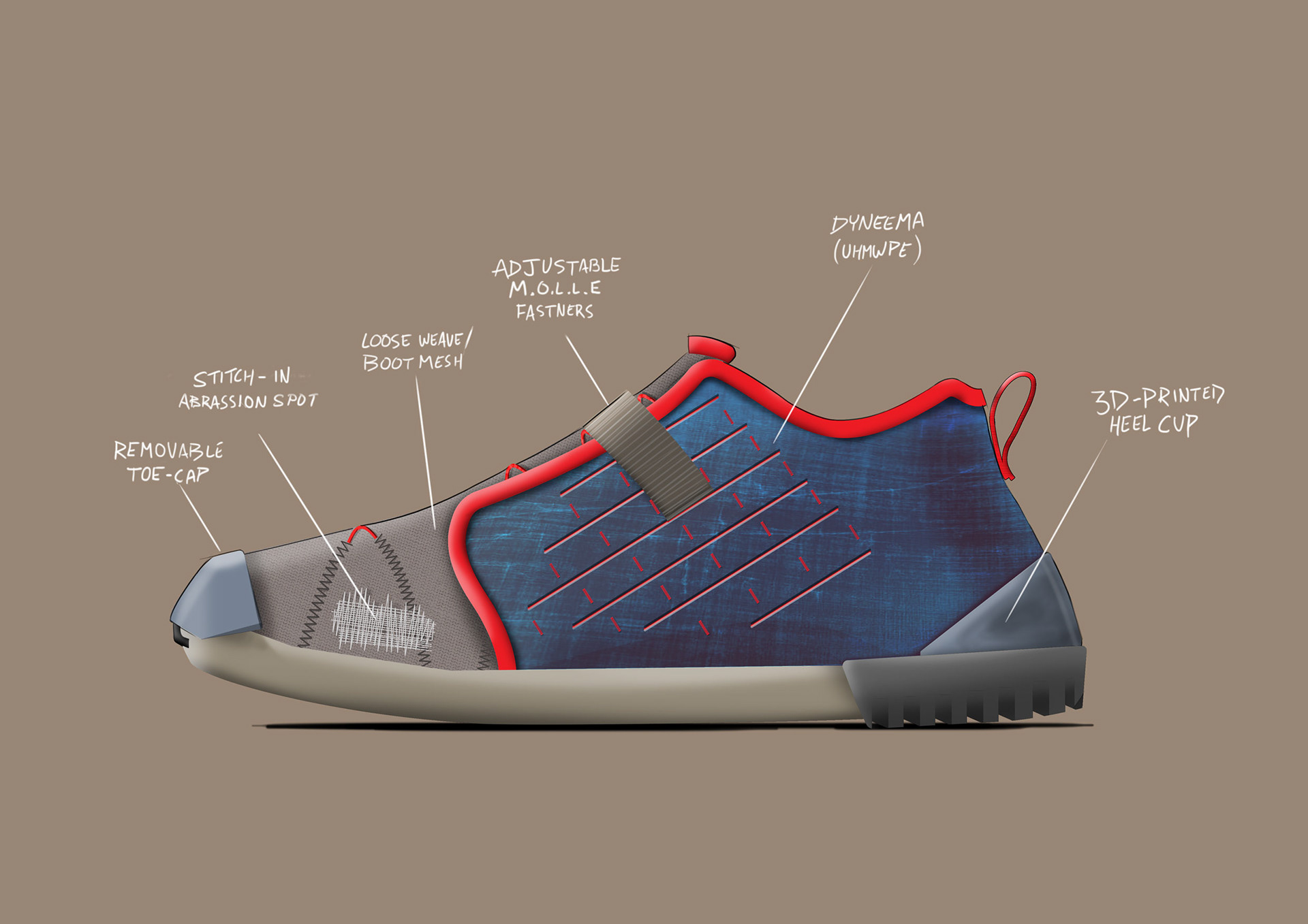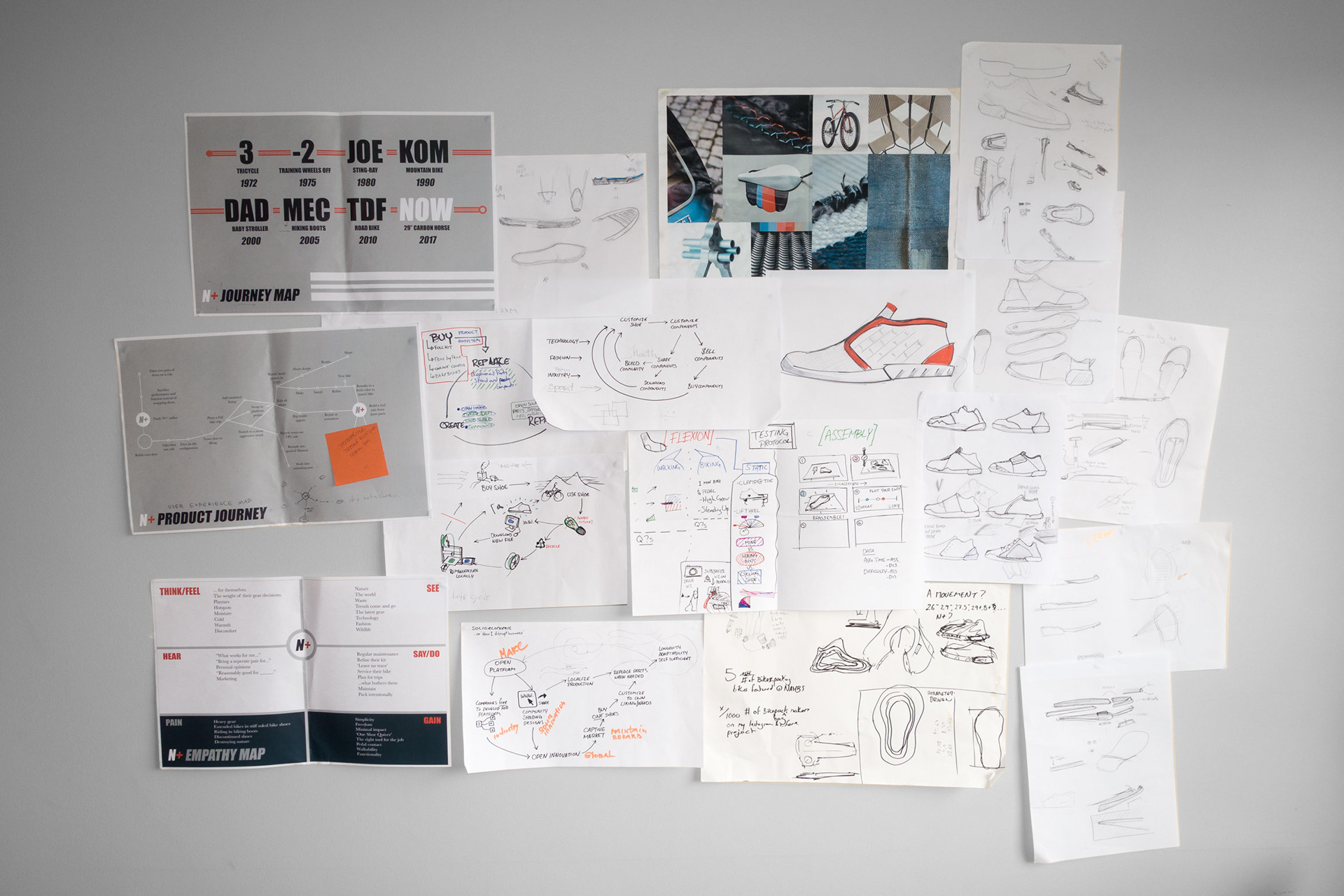 Modular design

The shoe is designed as a modular system that allows riders to tweak and tune the shoe in the same way they would get a bike 'dialed' for a particular adventure.

  - Easy to repair and disassemble
  - Replaceable outsole joined without glue
  - Repairable and interchangeable textile
  - Tune for different conditions, seasons, rides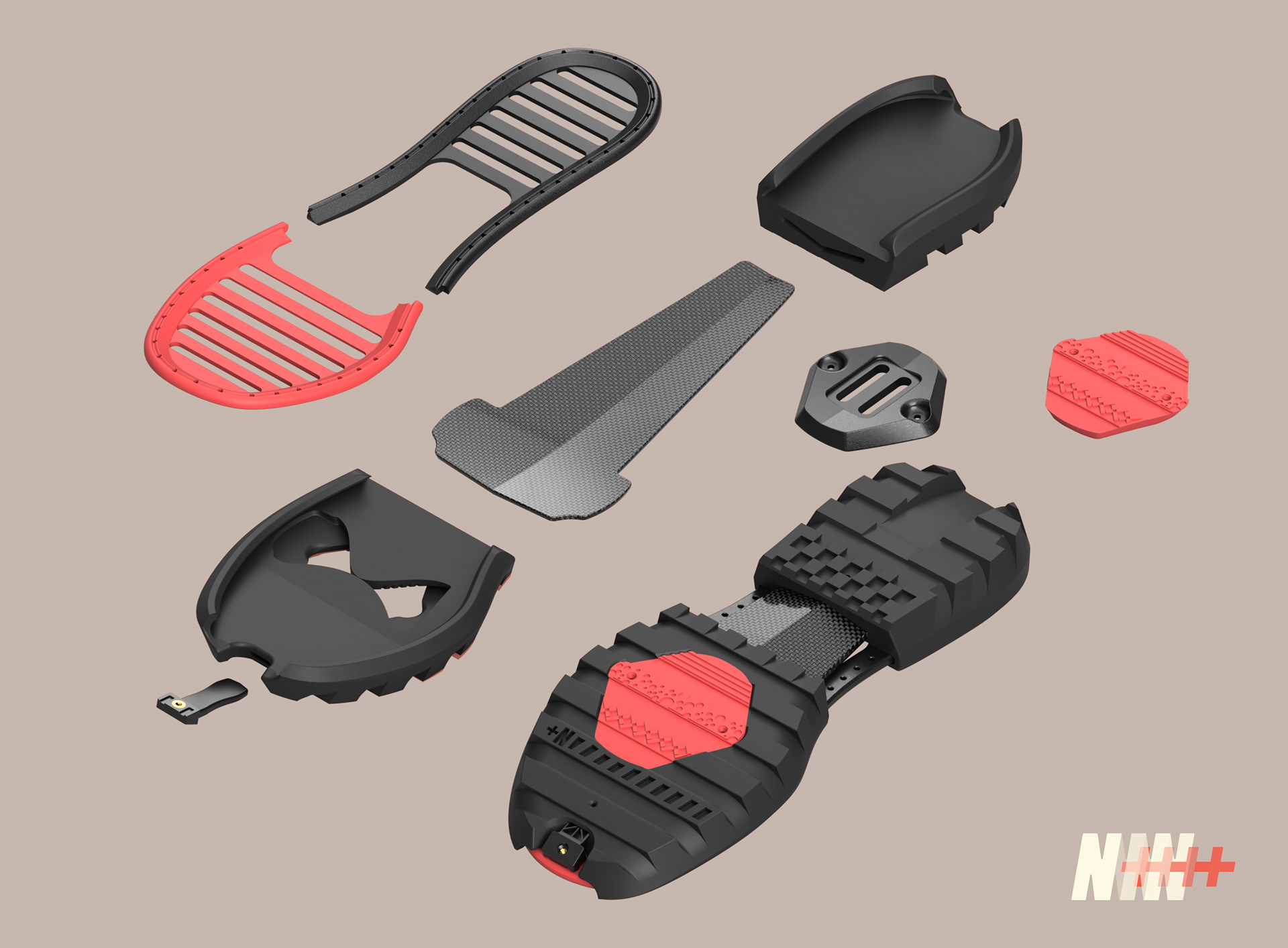 Serviceable
Making bike shoes is tough, disposing of bike shoes is even tougher. Non-traditional construction makes for a more sustainable extended product life cycle. High-wear pieces like the outsole can be replaced, and at different rates too — pedal wear happening faster than walking/heel wear. Textiles that tear or stink can be washed, repaired or replaced. The composite core, which will last centuries, fits a range of sizes and can be reused forever - yes, leave it in your will!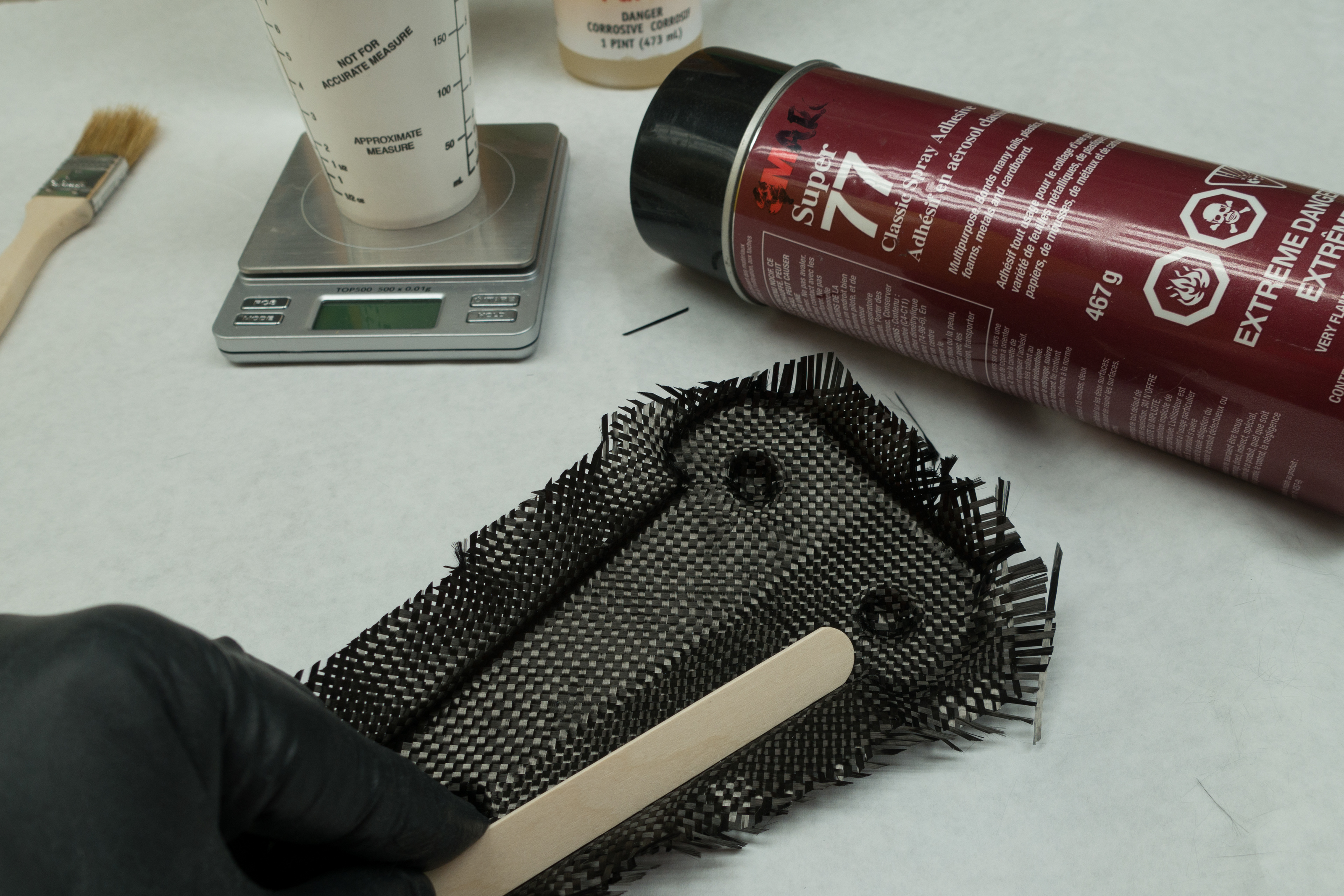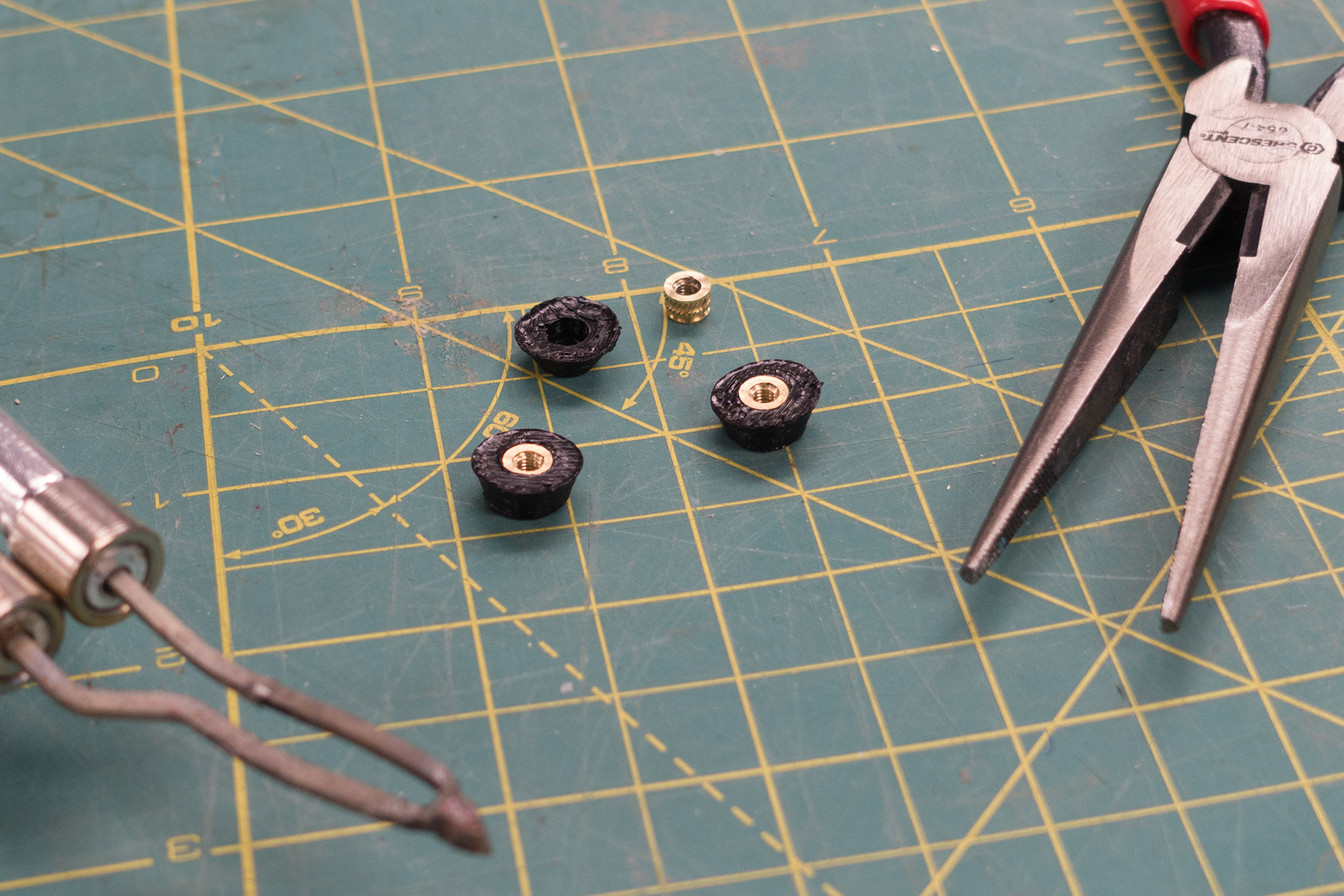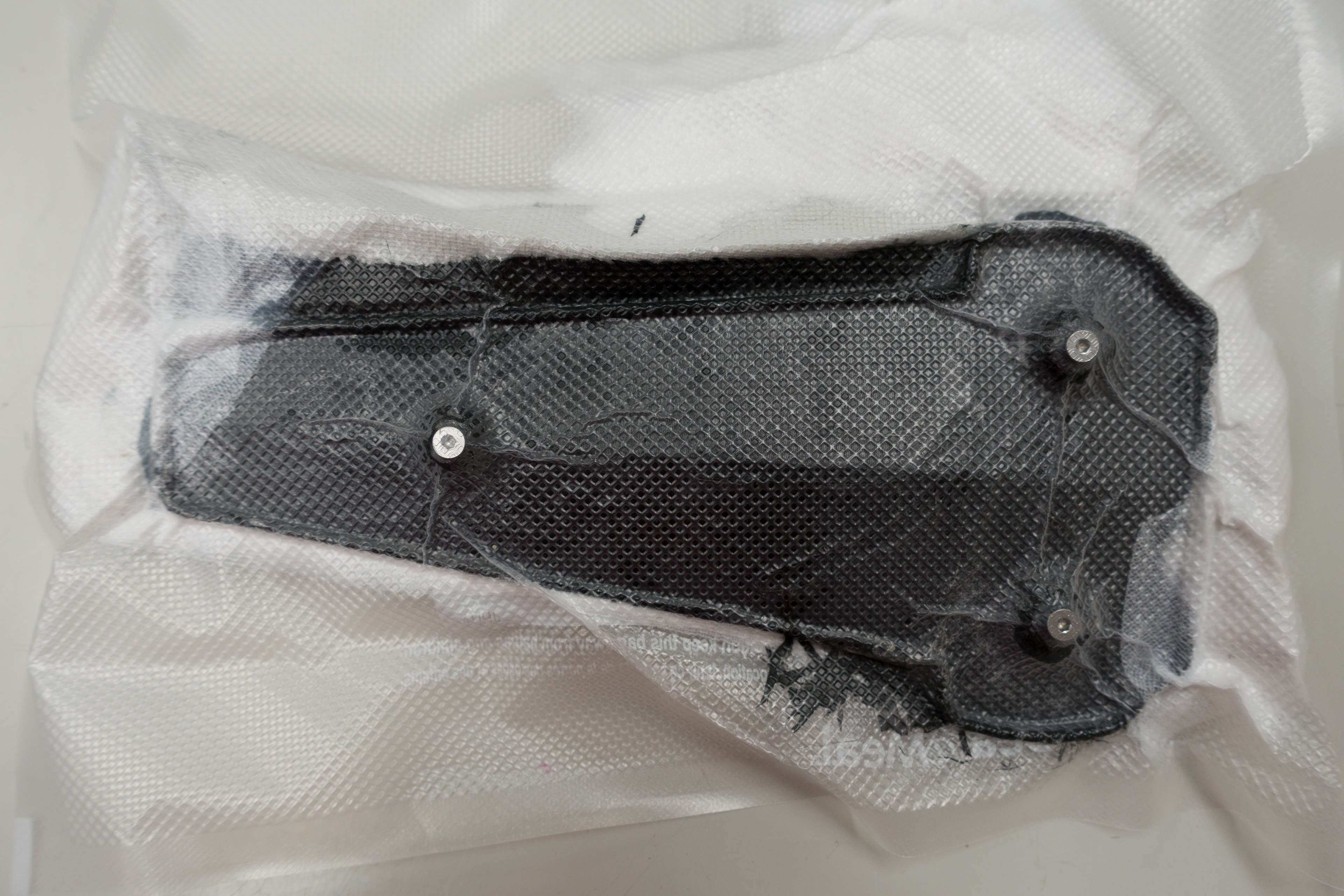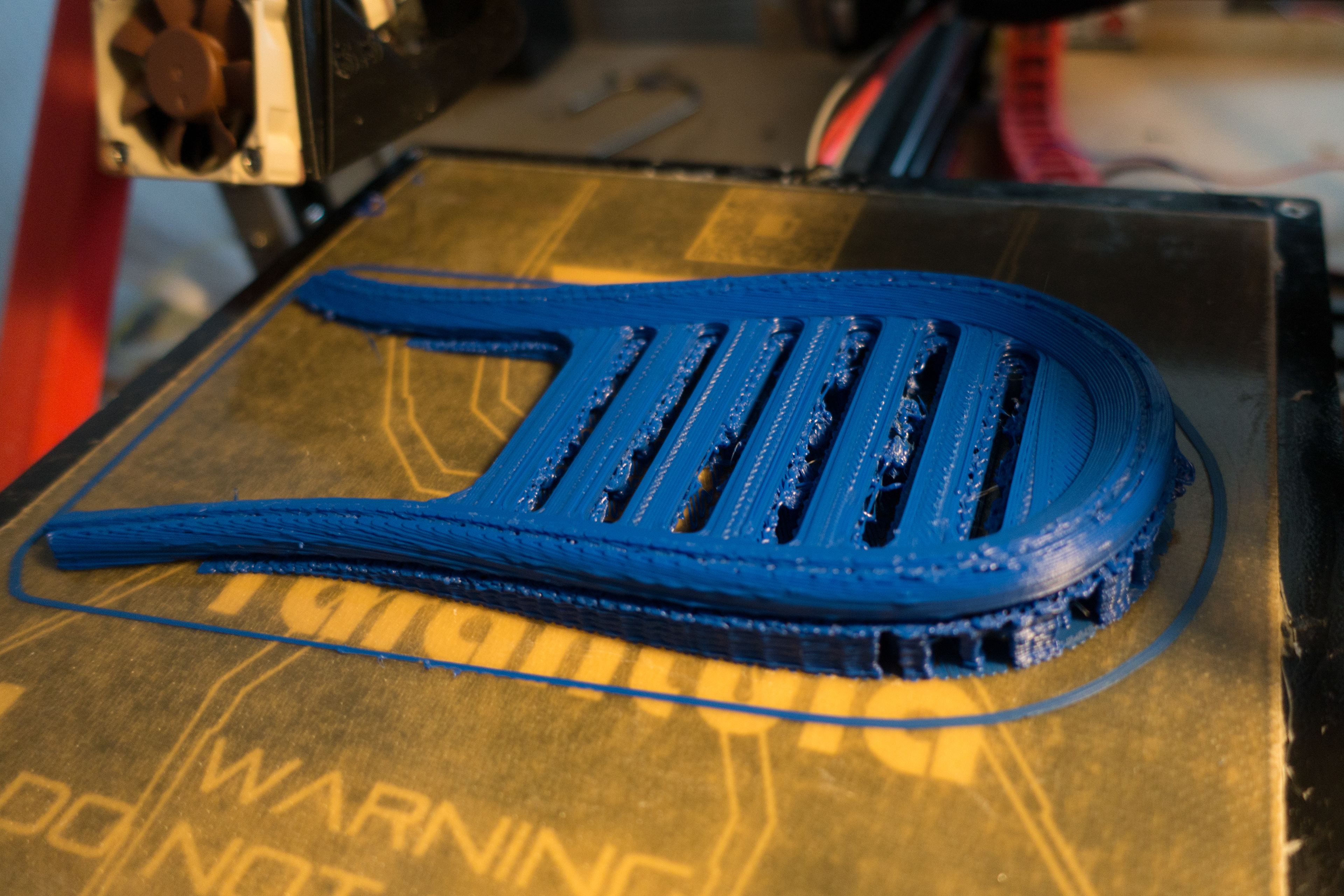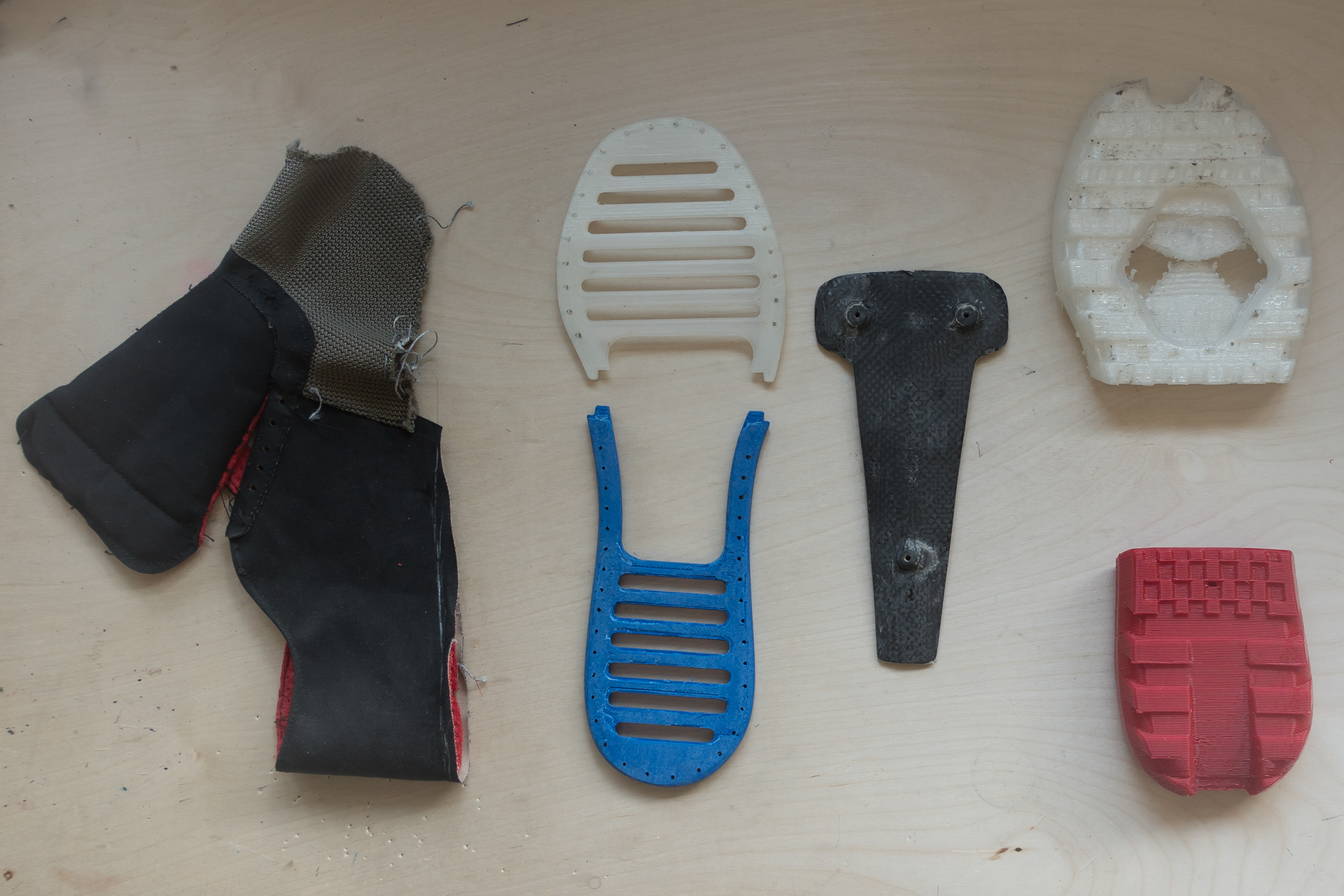 Additive-enabled

Exploring the potential of digital manufacturing, I've used the term 'additive-enabled' because the composite core us made using a 3D printed mold and 3D printed threaded inserts to give shape to the core. The textile uppers are produced with good old fashioned textile technologies, in this case a 1980's domestic machine.
The frame (heel & toe), outsole (heel & toe), pedal inserts (platform & SPD) and toe-guard were all 3D printed. The design is optimized for printability. The last  I built the textile around was also printed.
More features

Metatarsal Articulation

,
a pleated carbon fiber and AmpliTex (flax fiber) shank that allows toe movement while maintaining power transfer (stiffness on pedals)
Interchangeable pedal interface
can be used with clip-in pedals (SPD) or platform
Replaceable toe guard
for added protection on narrow trails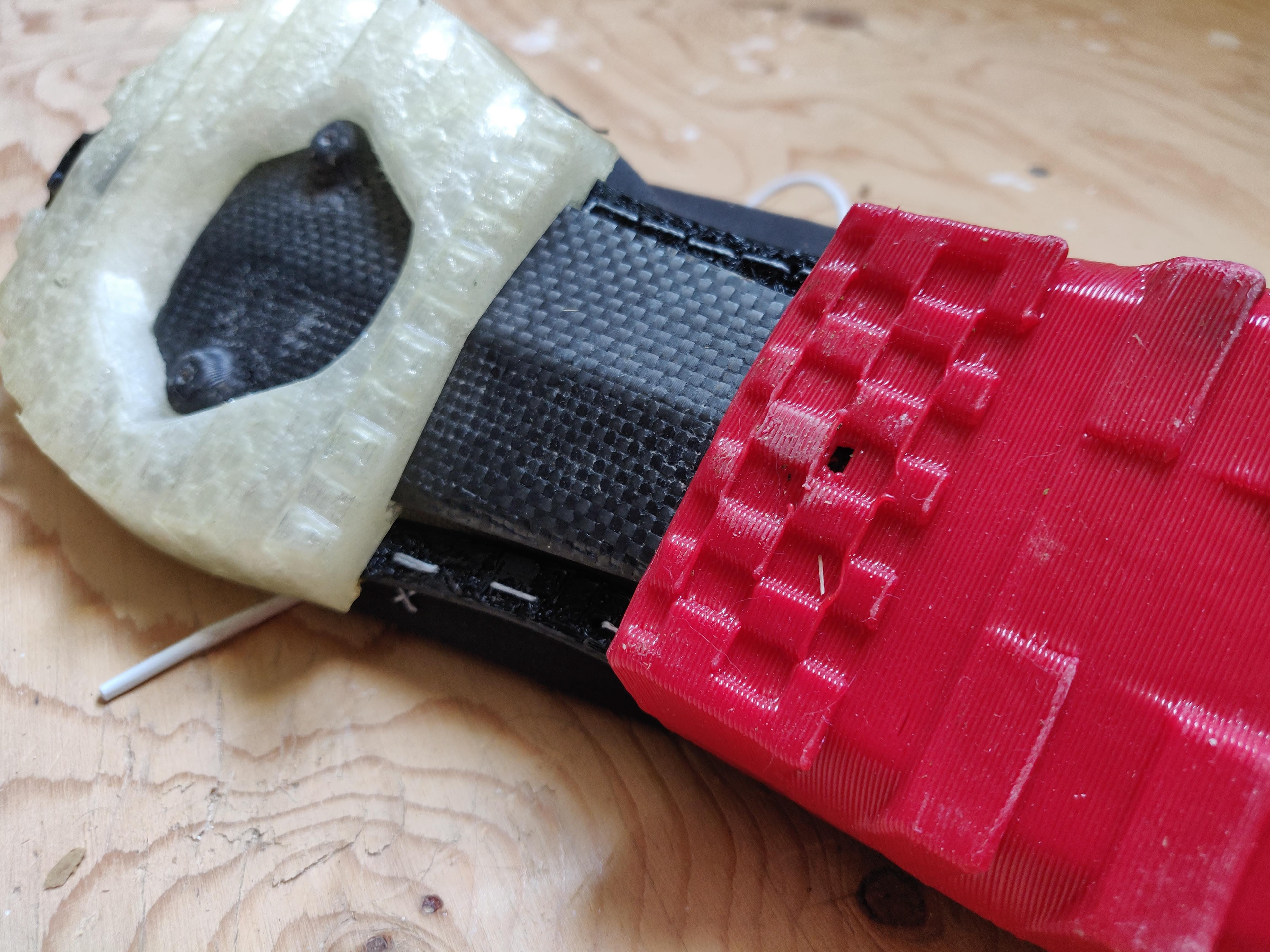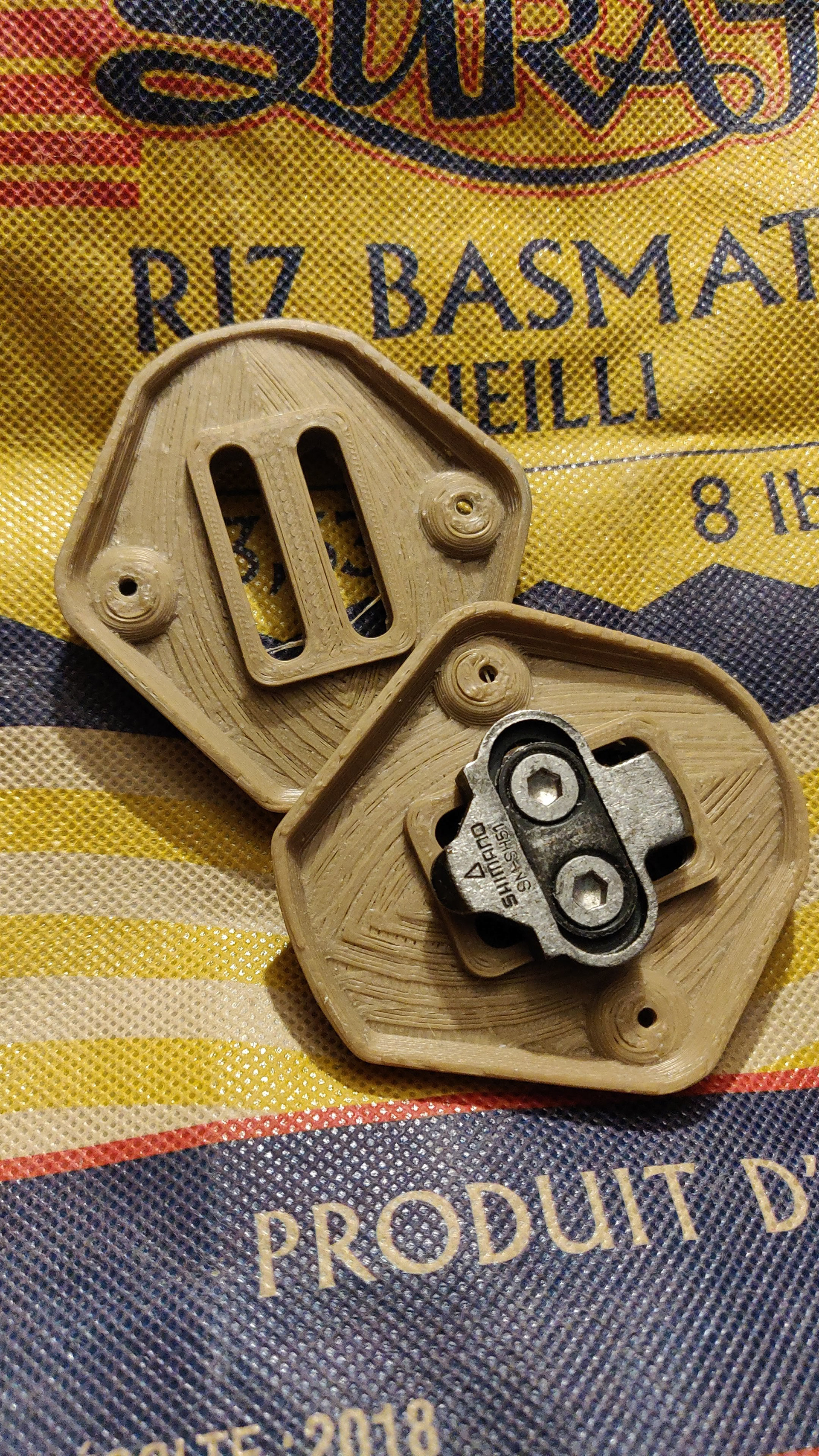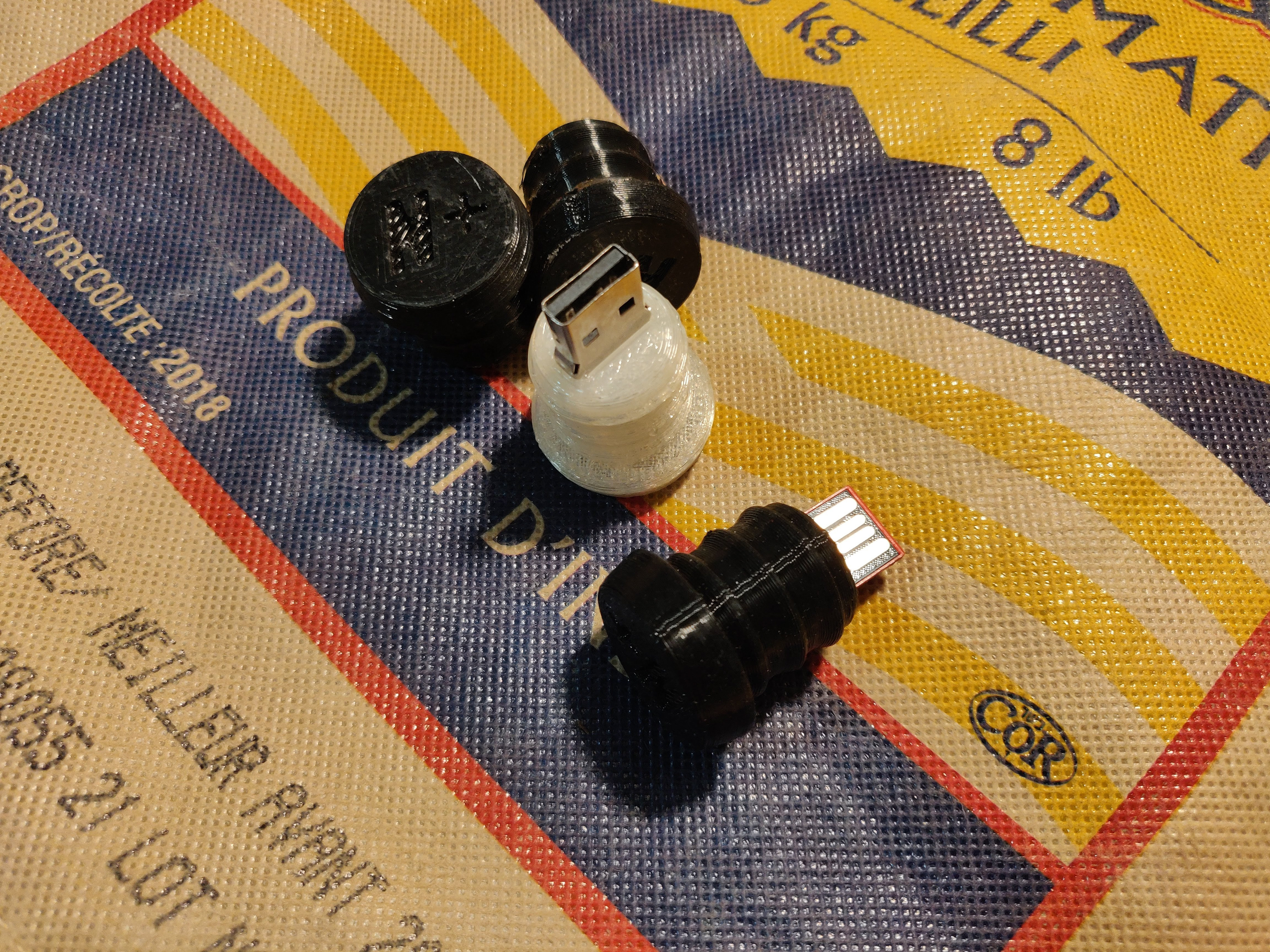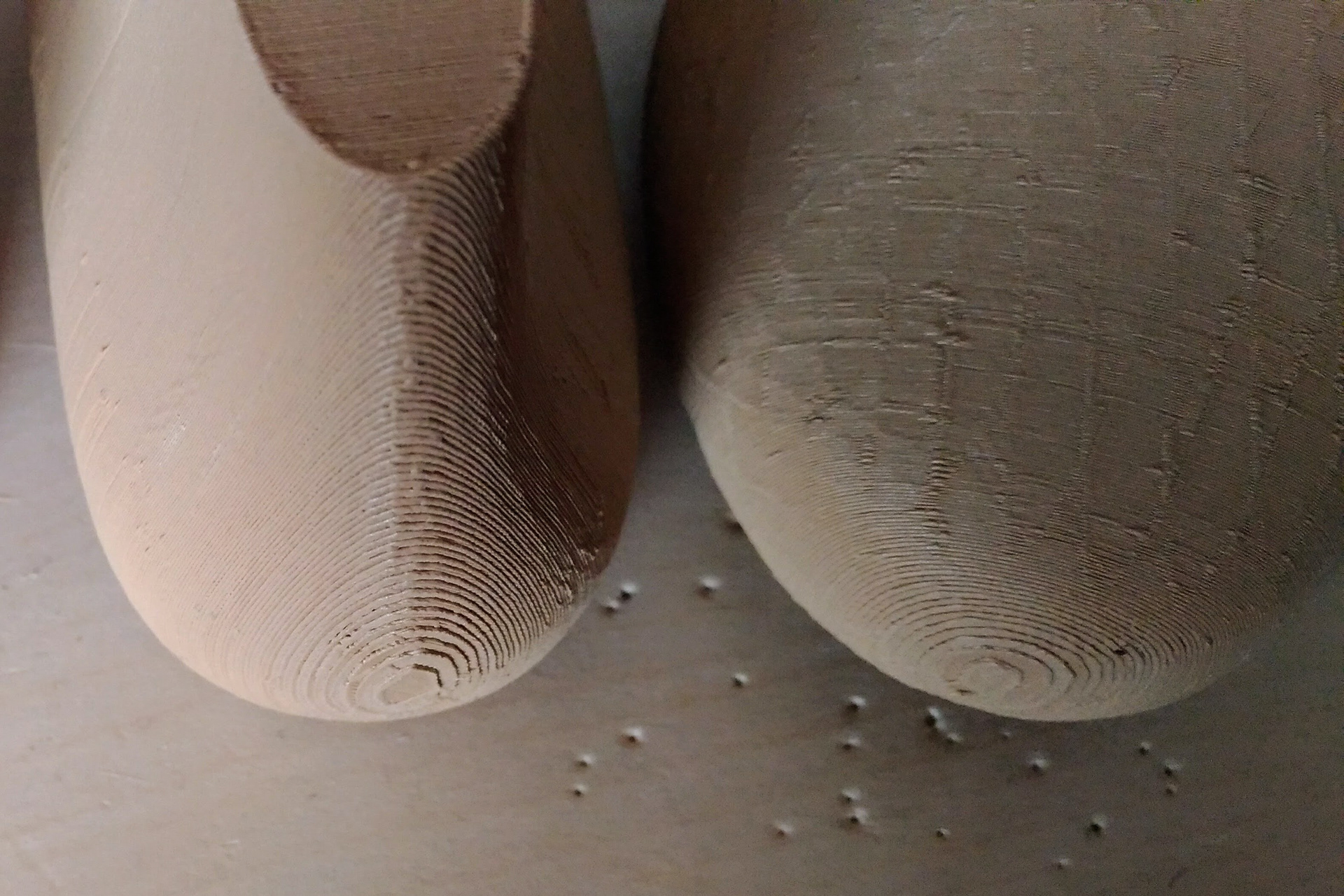 Certified open-source hardgoods
This shoe platform is open-source. The goal is community based innovation, where riders dial in their footwear in the same way they would a bike. Let's explore new models of ownership and changing consumer expectations;
free your cleats from tyranny
.
Imagine; Tire companies reproducing their treads in special compounds for the outsole, cottage bike bag makers could develop and sell textile uppers, composite manufacturers could release proprietary layups of the rigid core.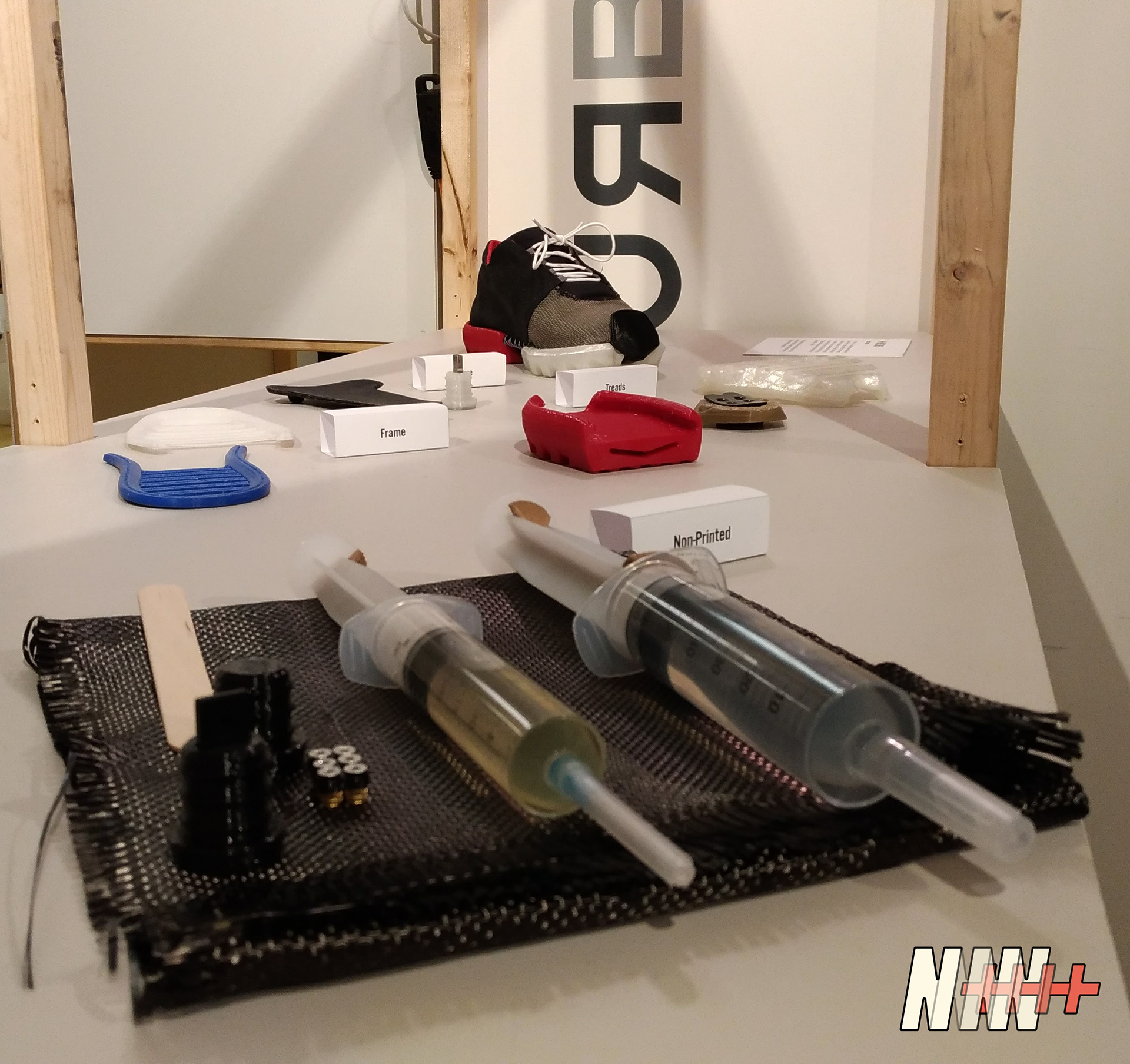 Testing against real shoes

I sewed a simple textile upper and tested the shoe. Participants would walk up an inclined ramp or pedal a stationary bike wearing the prototype and a comparison shoe.

The initial prototype had comparable walking qualities, with ~2.5 degrees less flexion than a well worn Salomon trail runner. Over pedals, the shoe was more flexible by ~2.7 degrees.

It indicates a partial length core can give riders similar comfort to a performance cycling shoe, while avoiding issues like heel lift and silly-walking you'd normally run into trying to do it all in one pair.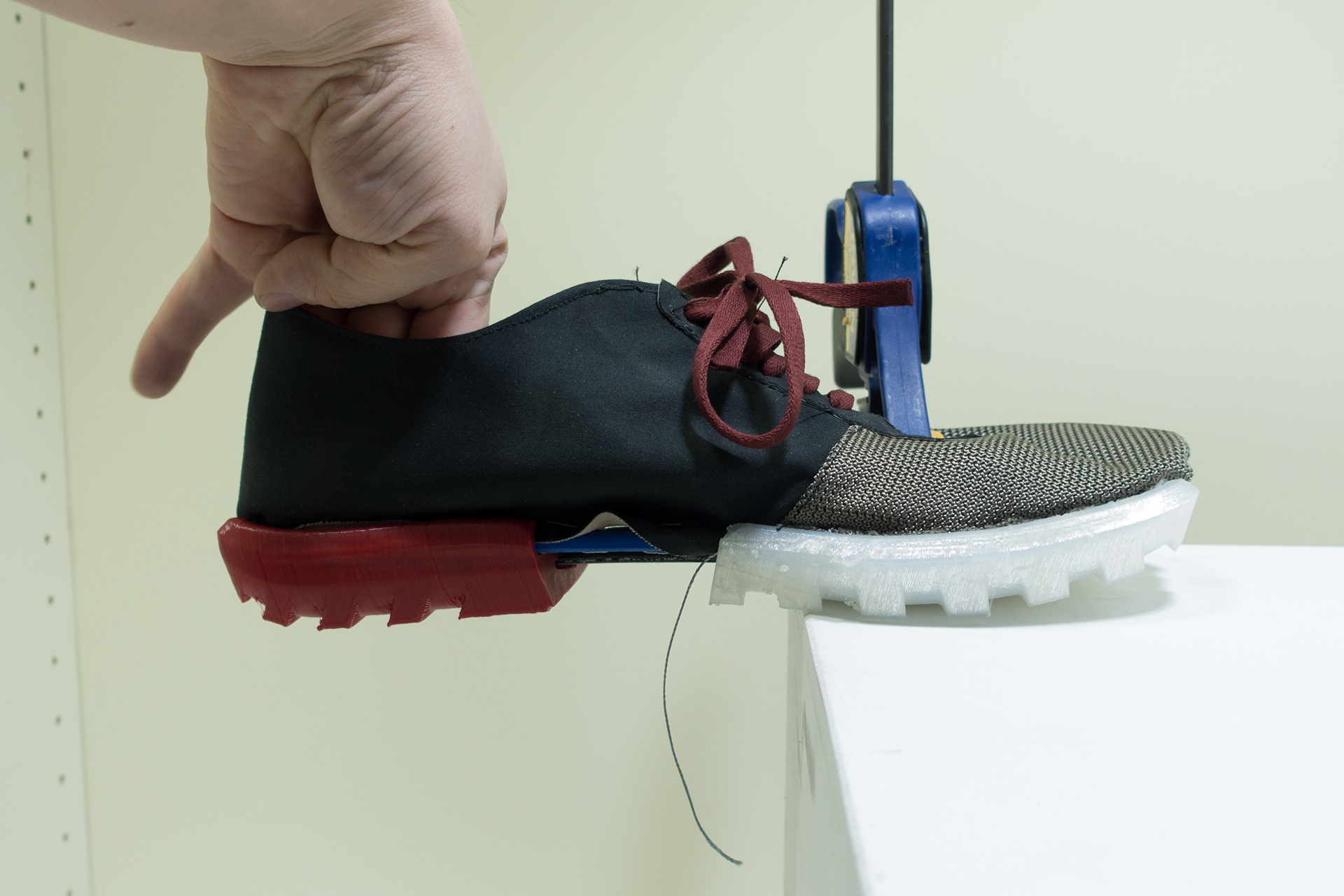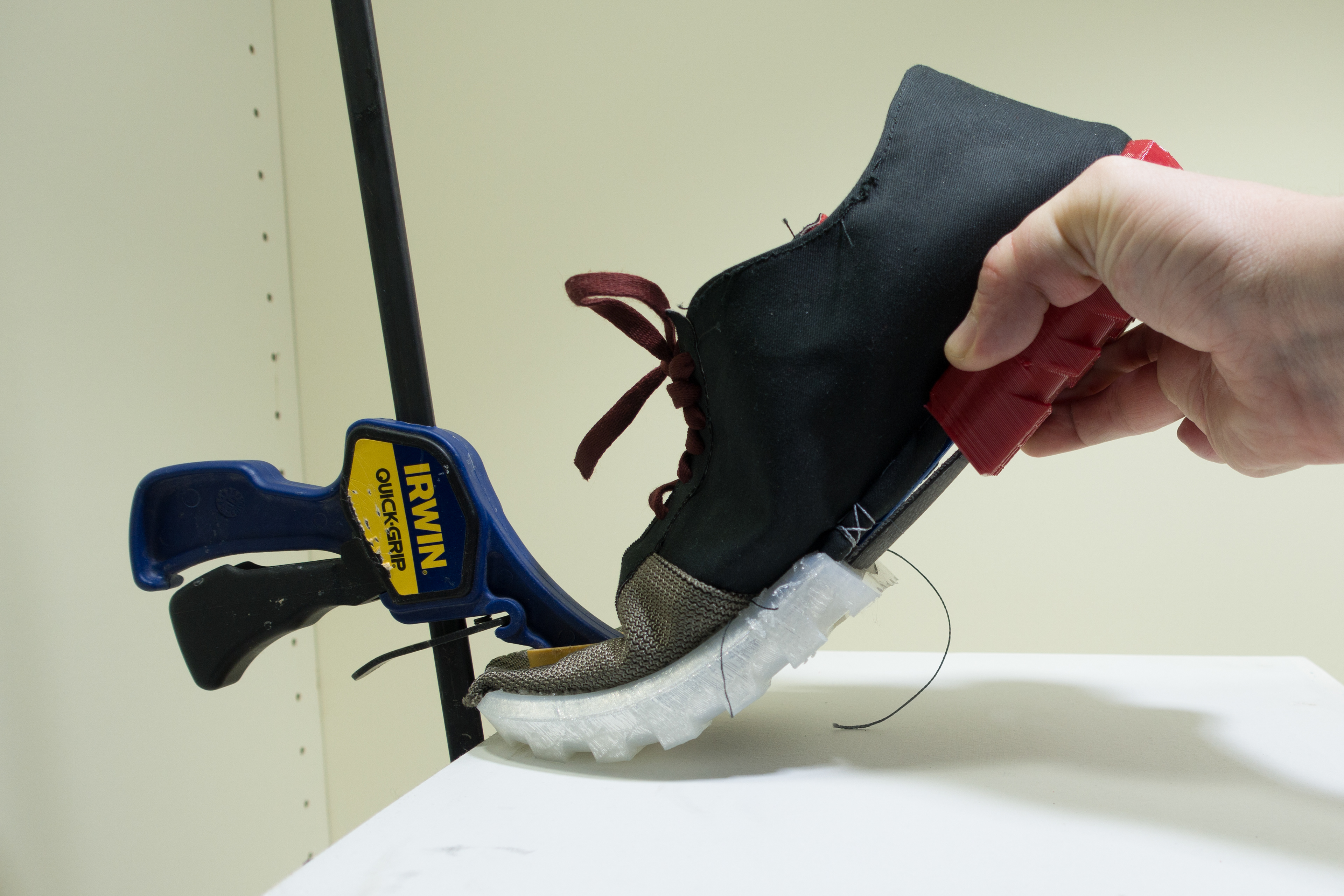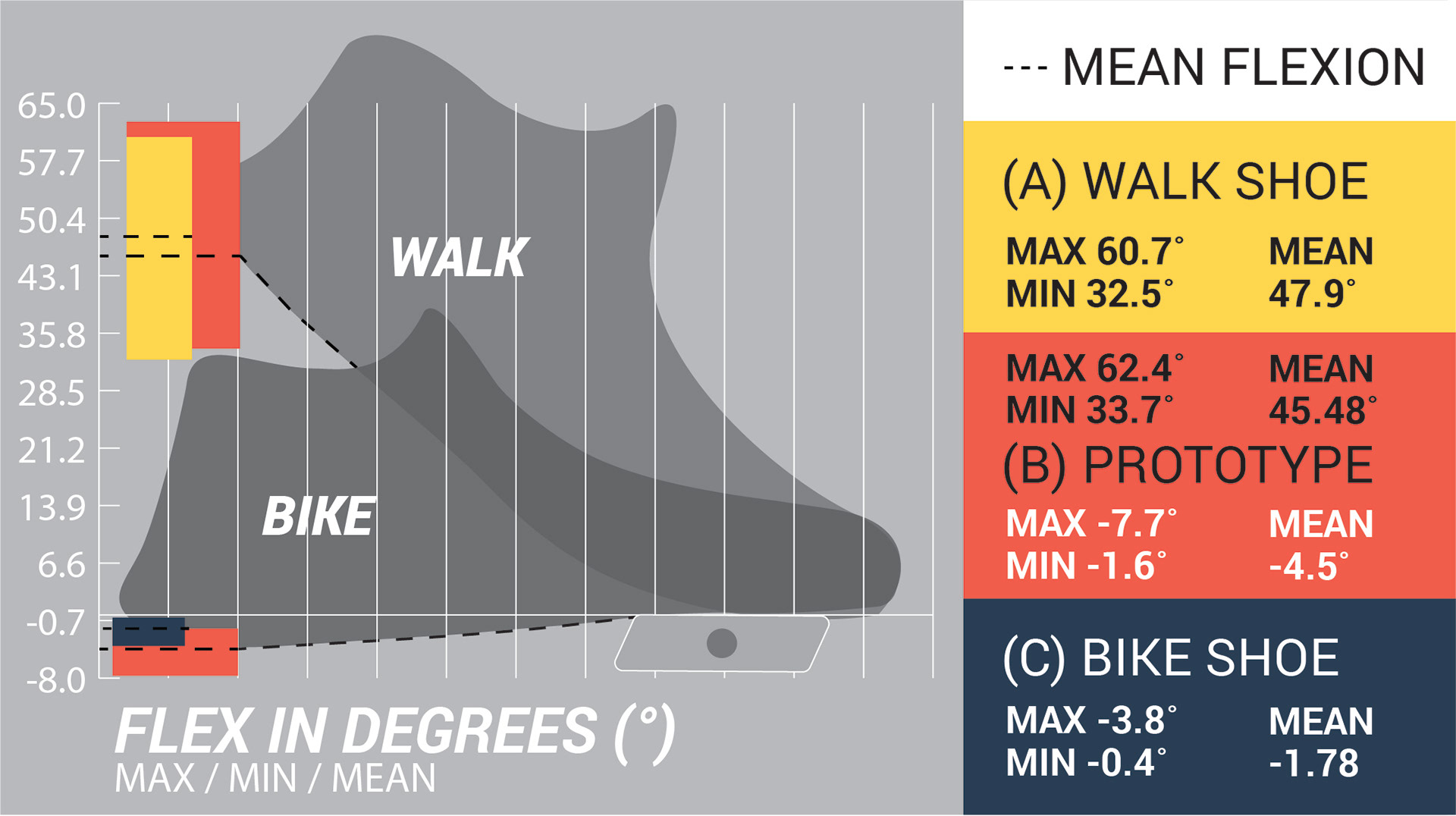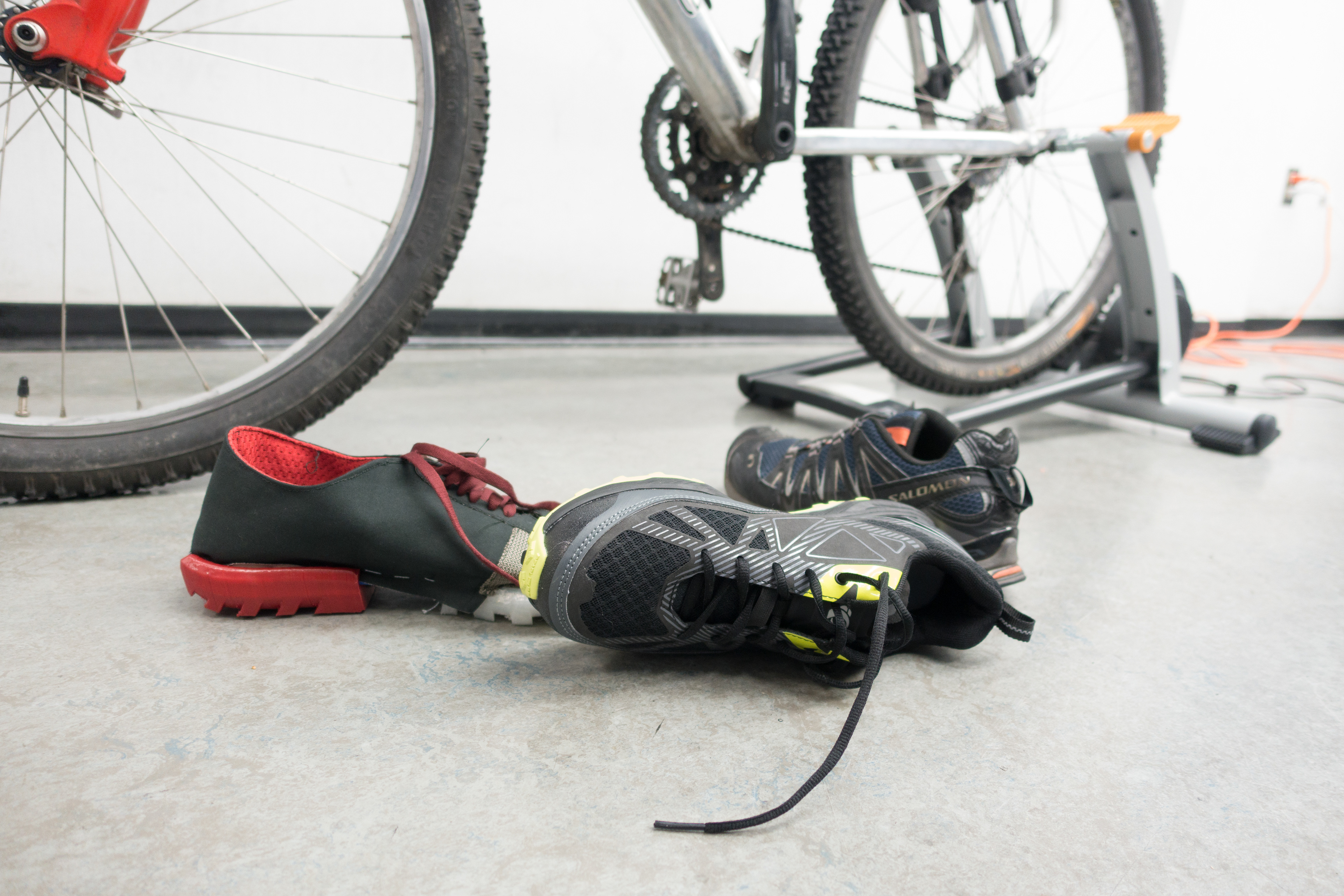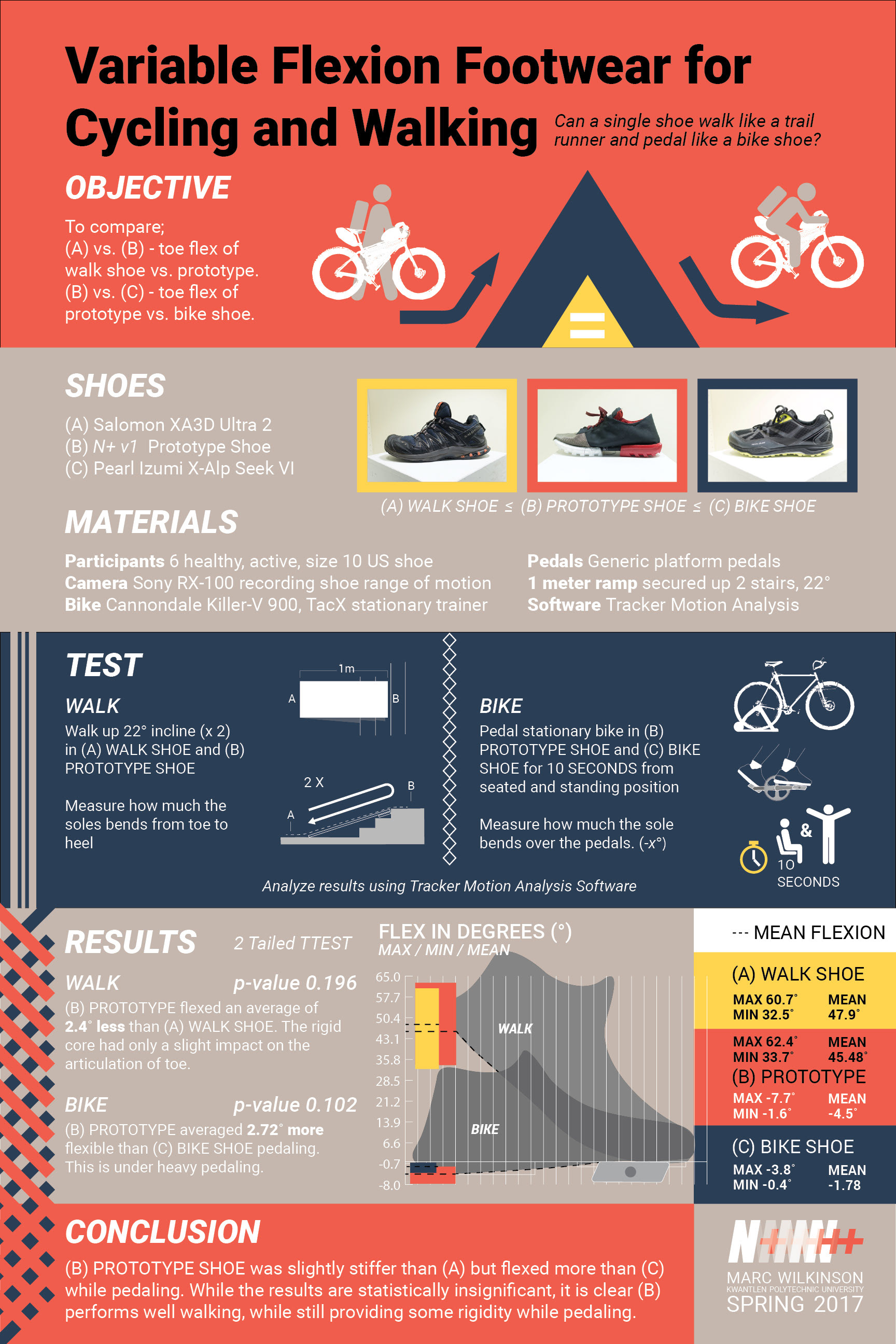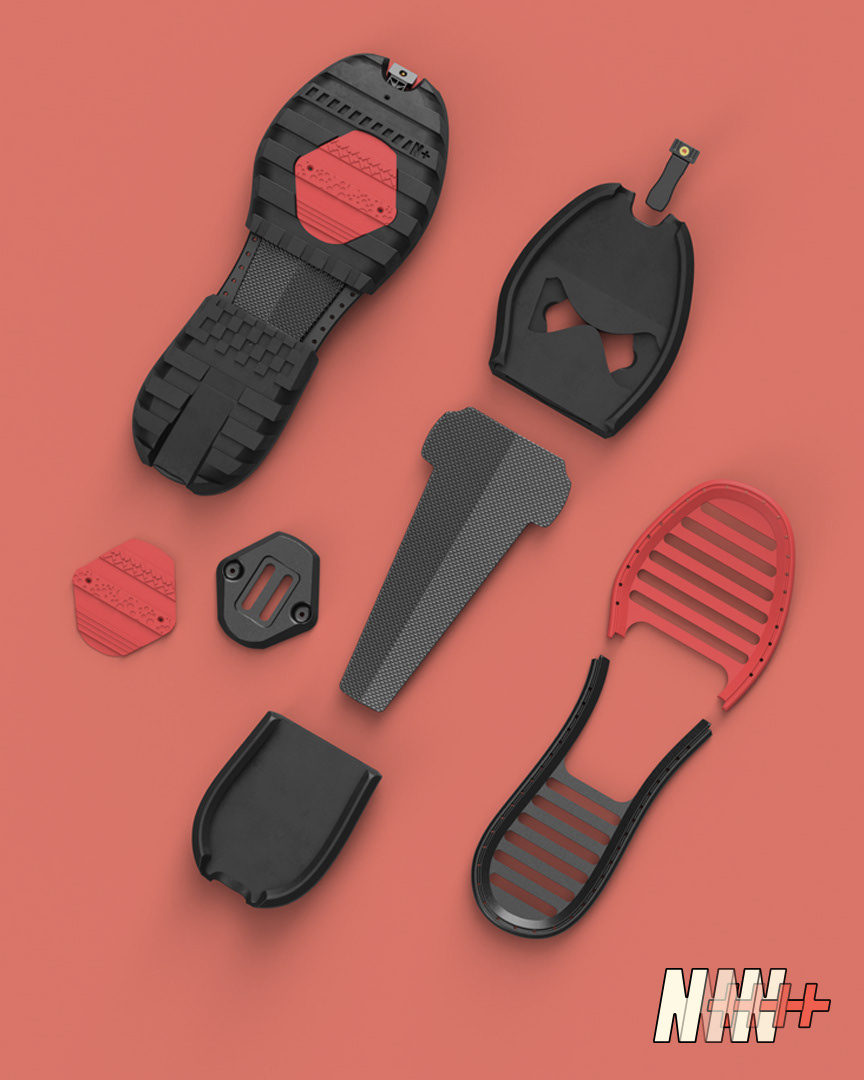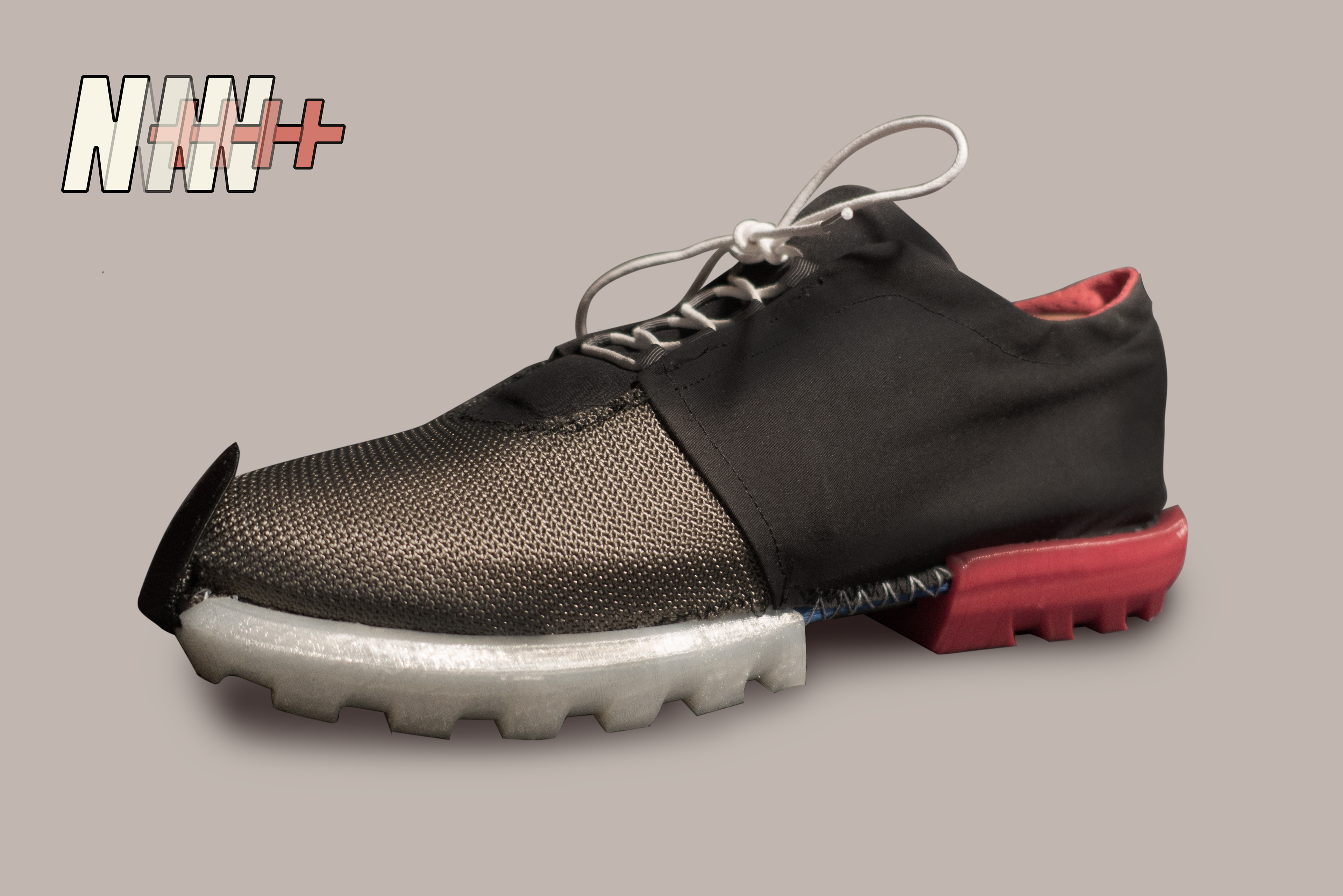 N+ You Do Shoe
Links
Other Stuff